AL-FATLAWI, Ali & AL-AMERI, Wathiq
Iraq/Switzerland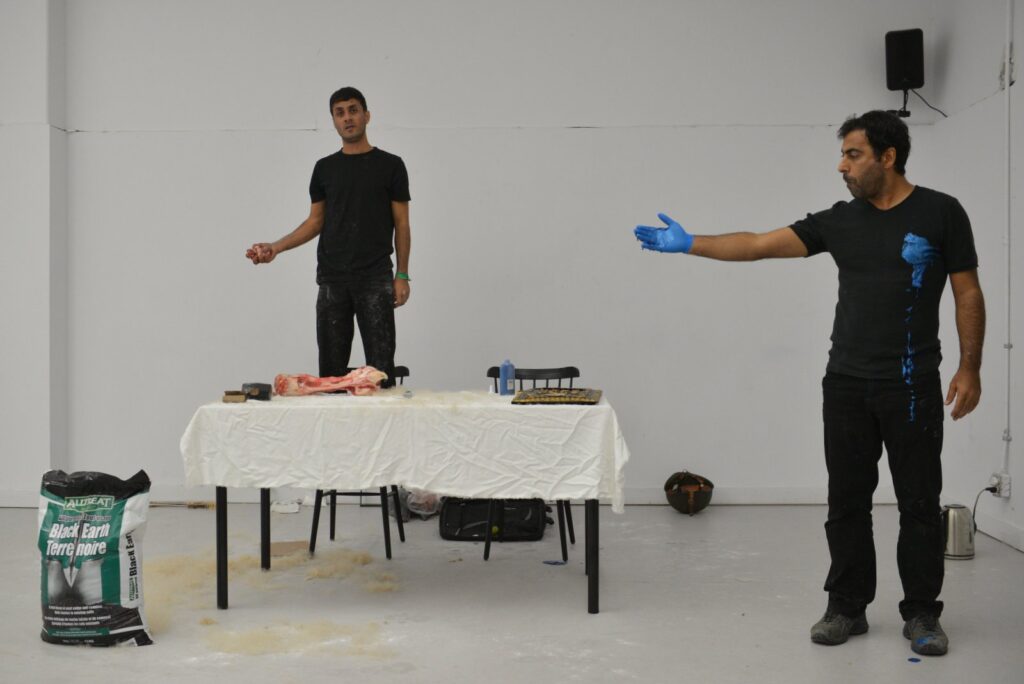 Ali Al-Fatlawi and Wathiq Al-Ameri, Vanishing Borders 7a*11d 2014 PHOTO Henry Chan
Vanishing Borders
Friday October 31  8 pm
Artscape Youngplace
We create performances that present a view of history from exile, combining a critical perspective with the hope of returning to their homeland. Our art explores issues of confrontation and war using materials that can be combined with local conditions to create unique images. Our performances work to produce images in the moment, without translation into words. Images, moments, change, passing through a place and remaining in memory give form to our practice, and are the elements we hope will communicate to an audience. We address audiences' emotions rather than their intellect, making a pure exchange possible.
Ali Al-Fatlawi and Wathiq Al-Ameri were born in 1972 in Baghdad, Iraq. Friends since childhood, they studied at the University of Fine Arts in Baghdad before escaping the regime of Saddam Hussein together. They now live in Switzerland, where they studied at the F+F Schule für Kunst und Mediendesign and founded the studio group Urnamo.
Presented with the support of the Swiss Arts Council Pro Helvetia.
Performance Art Daily - Border Crossings with Ali AL-FATLAWI, Wathiq AL-AMERI, Robeto DE LA TORRE, Serena LEE and moderator Francisco-Fernando GRANADOS, 7a*11d October 29 2014