ADÉ SOLEIL, Barak
USA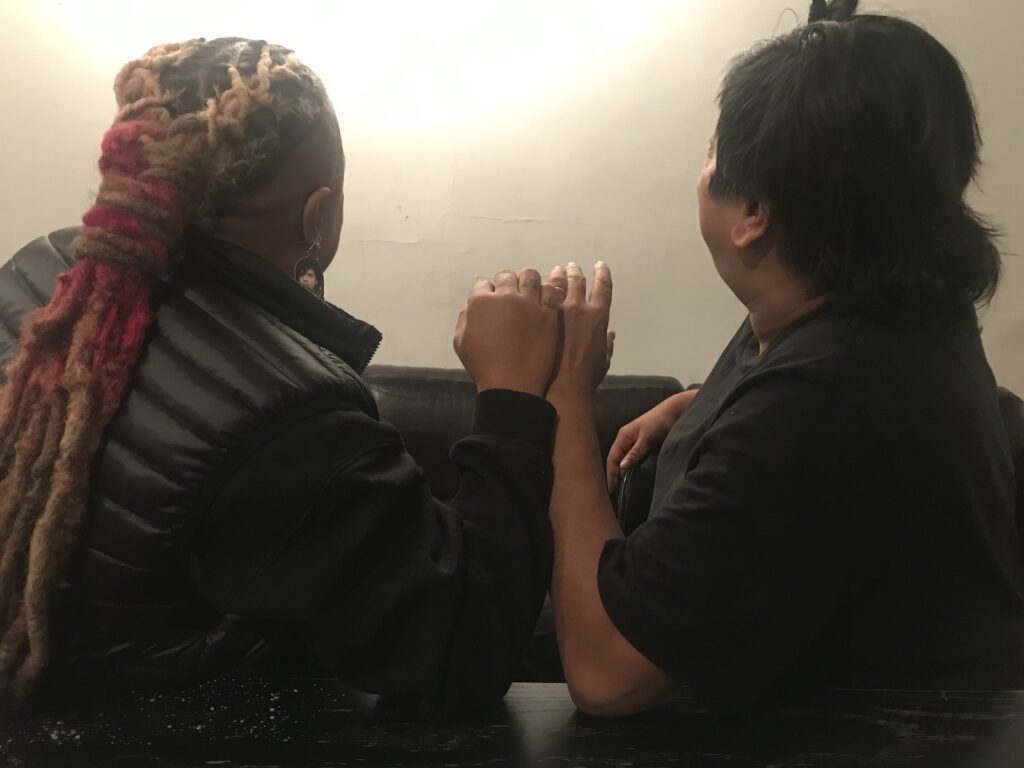 two folx participating in Barak adé Soleil's we. hosted by by Rosina Kazi at Unit 2 KinesTHESES 2019 PHOTO Barak adé Soleil
we.
Monday October 28 to Wednesday November 13; for details, contact Barak via email (see below).
Please not that the public iteration of the project scheduled for Sunday November 10 2 pm has been cancelled.
Drawing from legendary Muhammad Ali's iconic and arguably world's shortest poem—"Me, We"—the gently kinetic performative work we. reflects a desire and intention for genuine interconnectivity. we. will emerge through consensual touch, physical shifting and ambient explorations; guided by voice and visually non-voiced cues within a communal experience.
A call to gather:
Between October 28 and November 13, Barak adé Soileil will be in Toronto as part of KineTHESES, offering a series of communal movement gatherings titled we.
This is a call to gather for those who may want to take part in intimate non-public gatherings, as hosts or participants. As well this is a call to gather for those who may be interested in exploring we. within random public spaces.
Please feel free to email Barak at [email protected] if you are interested or want to know more about what it may mean to be part of we.
Barak adé Soleil is an award-winning contemporary artist and curator; part of the progressive scene since 1991. Addressing performativity and labour of the body, Barak's creative practice draws from traditions of the African diaspora, queerness, disability culture, and postmodernism.
Recent works include from here to there for the 2018 exhibition Chicago Disability Activism, Arts & Design, 1970s to Today at Gallery 400, and a series of movements for the 7a*11d International Festival of Performance Art. In NYC, markings premiered as part of the 2019 group exhibition Refiguring The Future.
Barak works globally, engaging with distinct communities across Turtle Island, Europe and Africa.
Artist talk/negotiated interaction with Barak adé Soleil and claude wittmann
Saturday November 9 2 pm
Wychwood Theatre (Wychwood Barns) 601 Christie St., Studio 176
FREE
Artists Barak adé Soleil and claude wittmann engage in a public discussion about their practices and how their works are situated within TPAC's KinesTHESES project.
USA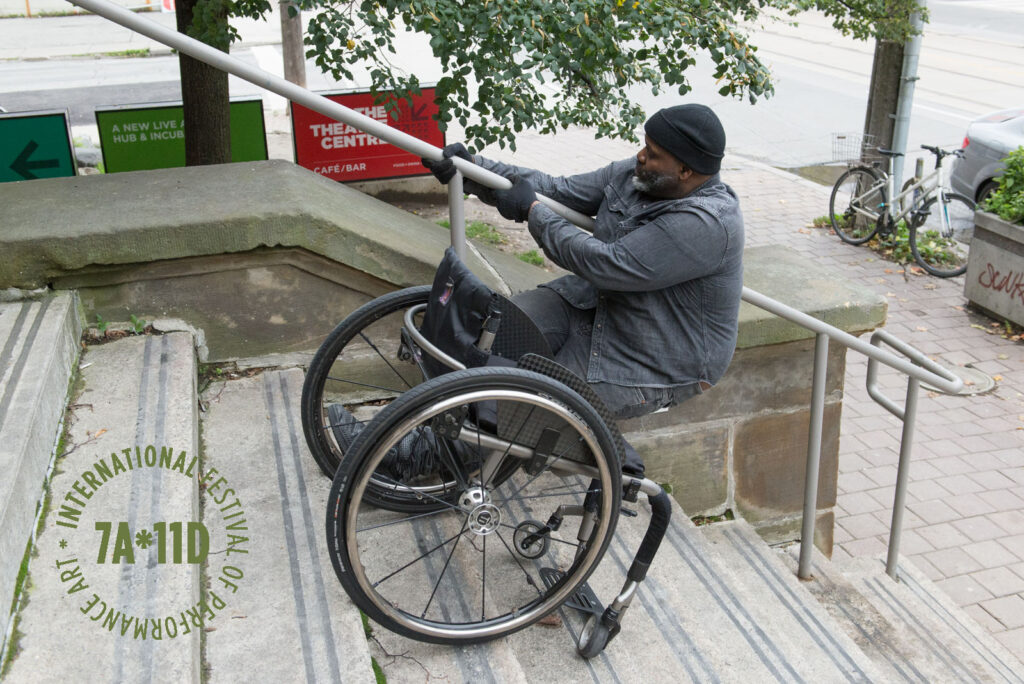 Barak adé Soleil a series of movements [Toronto] 7a*11d 2018 PHOTO Henry Chan
a series of movements [Toronto]
Sunday October 7 4:30 pm
The Theatre Centre
time shifts. the body moves. a black disabled body moves. queerly.
Reflecting a continued corporeal exploration of the intertwining legacies of race and disability, international artist Barak adé Soleil offers solo selections from compositions that navigate the seemingly pedestrian, transitory and performative ways one moves and is moved through the world.
"My creative aesthetic is informed by the expansive traditions of the African diaspora, postmodern techniques, queer and disability culture, and thoughtful intercultural dialogue. Initially focused solely on blackness and the legacies of black folk, the creative practice has shifted to exploring multiple intersections. Most present is the intersection of disability and race. I craft transgressive live art. Be it dance, theatre or undefinable, the artistry comes from a rigorous exploration of how one uniquely moves, as well as how one is part of a larger movement."
Barak adé Soleil is an award-winning artist making dance, theatre and performance art that draws upon the traditions of the African diaspora, queerness, disability culture and postmodernism. Barak has been working internationally within the live arts scene for over two decades.
To support access, we invite those within the Deaf, Mad and disability identified communities to register via an Eventbrite link. Tickets will be held under your name at the Box office. Tickets are Pay-What-You-Can. You may pay for the tickets at the Box office.

Critical review RE:FRAMING by Francesco Gagliardi
Critical review Tender Considerations by Geneviève Wallen
Barak adé Soleil event announcement ASL Vlog (produced by Deaf Spectrum)