By Michelle Lacombe
Daylighting Walks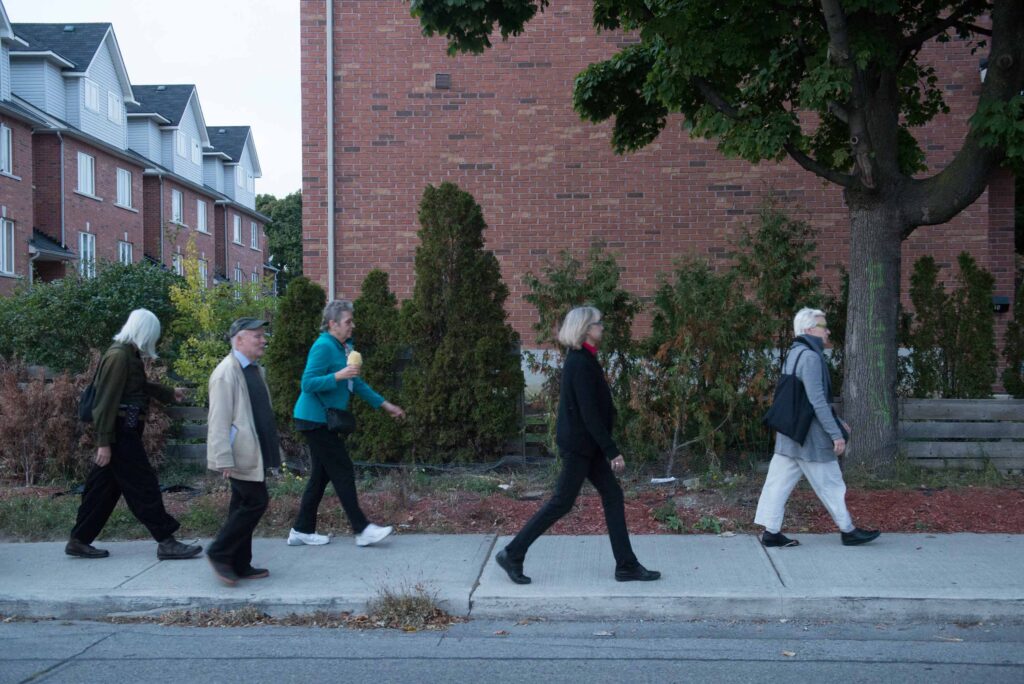 Despite actually arriving early, the first time I attend Elizabeth Chitty's Daylighting Walks I manage to miss the introduction, which frames the action for participants. Consequently, I do not participate at all in the way that is intended. I chat the whole time, excited to see friends I have not seen in a while and thrilled by the coincidence of being in one of the only neighbourhoods I know in Toronto. While I enjoy myself, I can sense something is off as we quickly shuffle down the street in a broken line. No one attempts to fill me in but I eventually realize that my experience is not representative. I decide to go back, in part to participate in a more appropriate manner, but also to confirm if Chitty is offering the same trajectory each time.
My second attempt is not more successful. Late again. Regardless, I jump in and rely on information I have gathered from other participants and from Chitty's artist talk to frame my engagement. I know to keep silent and to reflect on water as we move. Unfortunately, while others seem to fall into the work quite comfortably, I struggle.
Throughout the walk, my mind wanders constantly off subject. I find keeping silent in a group context isolating and difficult. Periodically though, Chitty stops to share interesting historical information about nearby shores and underground rivers, or to wait for the group to catch up. These moments re-centre me each time because they actively prompt me to consider what is not visible; the past, the underground, the group dynamic… Left alone, I just can't stay focused. It's not my strength. And my struggle is exasperated by the presence of the video camera and the microphone. The tech generates in me an unbelievable pressure to connect, to perform, to participate in a very specific manner that I feel is just not happening. I am one of those people. Consequently, I spend most of my time being very self-aware and frustrated by my inability (or refusal) to extract a meaningful experience or to produce content for Chitty to work with. I wonder if this would be considered a form of participation or not?
Daylighting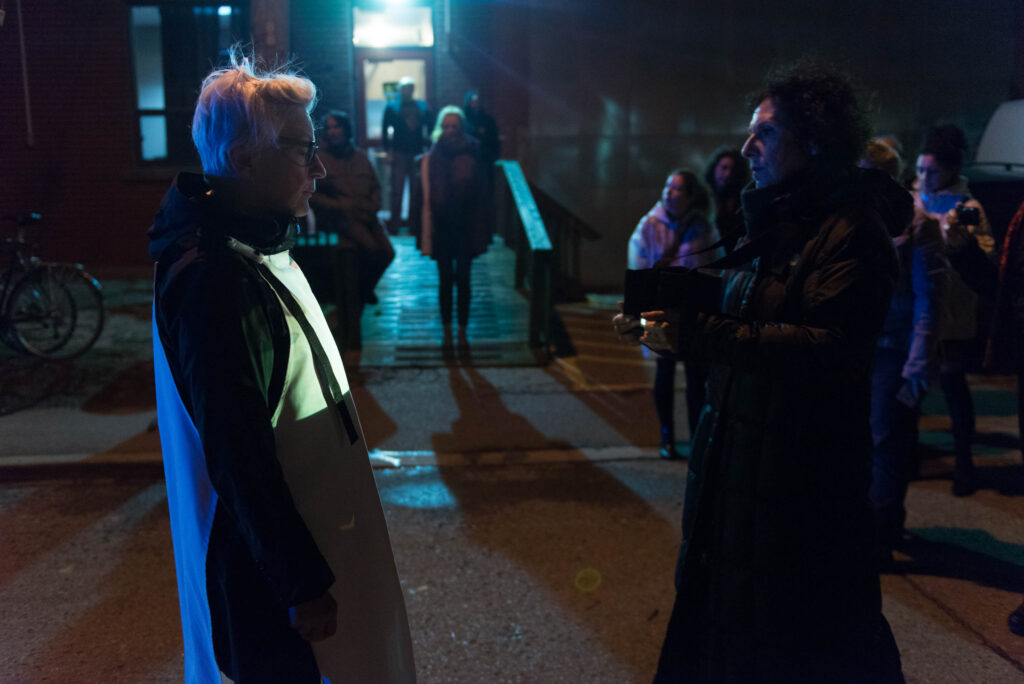 We go outside, greeted by a soundscape of voices reflecting on water, rivers, land, etc. Gleaned and edited from the recordings taken during the walks, the voices effectively flow, becoming itself a wonderful form of watery movement. As I listen, I am pleased to hear that people connected with the walks and have generated such sincere and reflexive content. You should understand why.
In the distance, glowing blue lights call to us. The public makes its way up the street, moving in an organic mass that shifts as people join the movement or stray and stop along the edges. Eventually we encounter Chitty, who is walking slowly towards us. She is closely followed by someone holding a small piece of equipment that projects a video onto her long white plastic apron. The image appears to be a water treatment facility, a plant filled with pipes and vats. As we follow her, I get a better look at the blue lights that move around us. They are illuminated watering cans carried by two volunteers who snake their way up the street to wet concrete cracks whatever flora has pierced up through the ground
Both the voices and the lights are a beautiful complement to Chitty's more stoic and rigid presence. The fluid soundscape recalls the past, both recent and distant, and the dancing lights that feed the ground playfully evoke depth and resistance to burial. As I move along the street, for the first time I am brought to think of what is gone (and our complacency in that erasure) and what is below us. Earth, seeds, rocks, and yes, water. Covered but not yet totally erased by the city. This is the walk I have been waiting for and the walk I feel Chitty was attempting to offer me earlier in the week.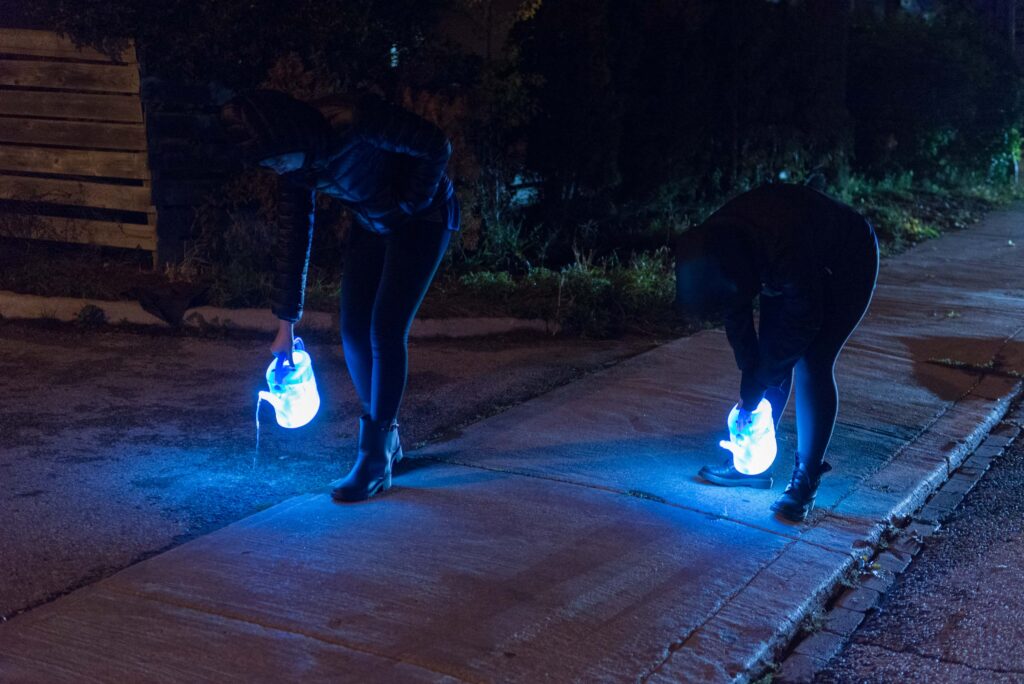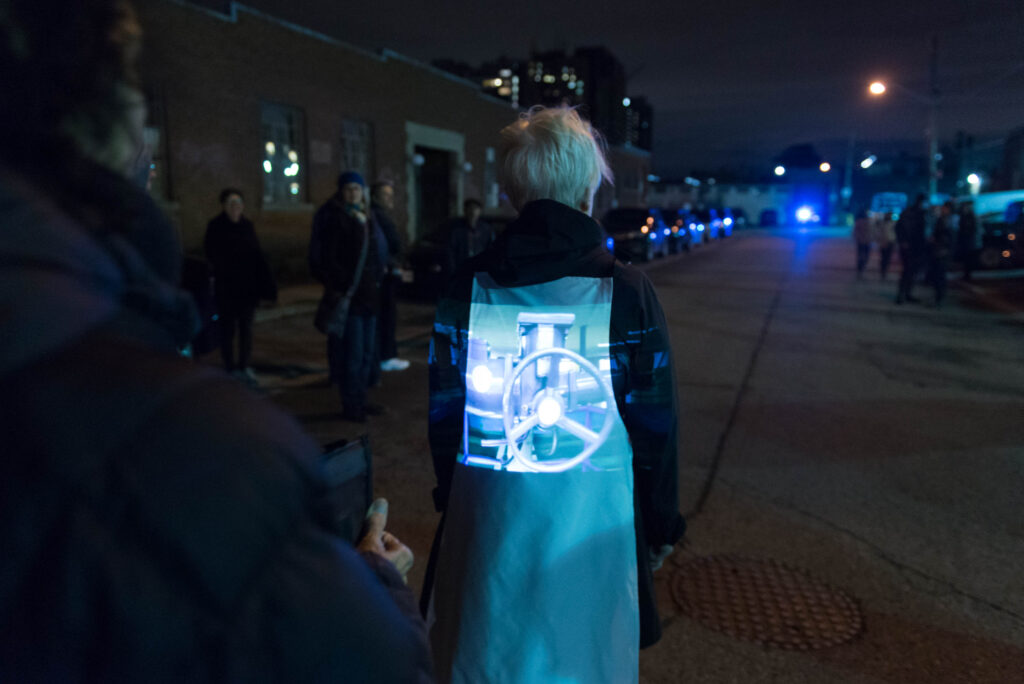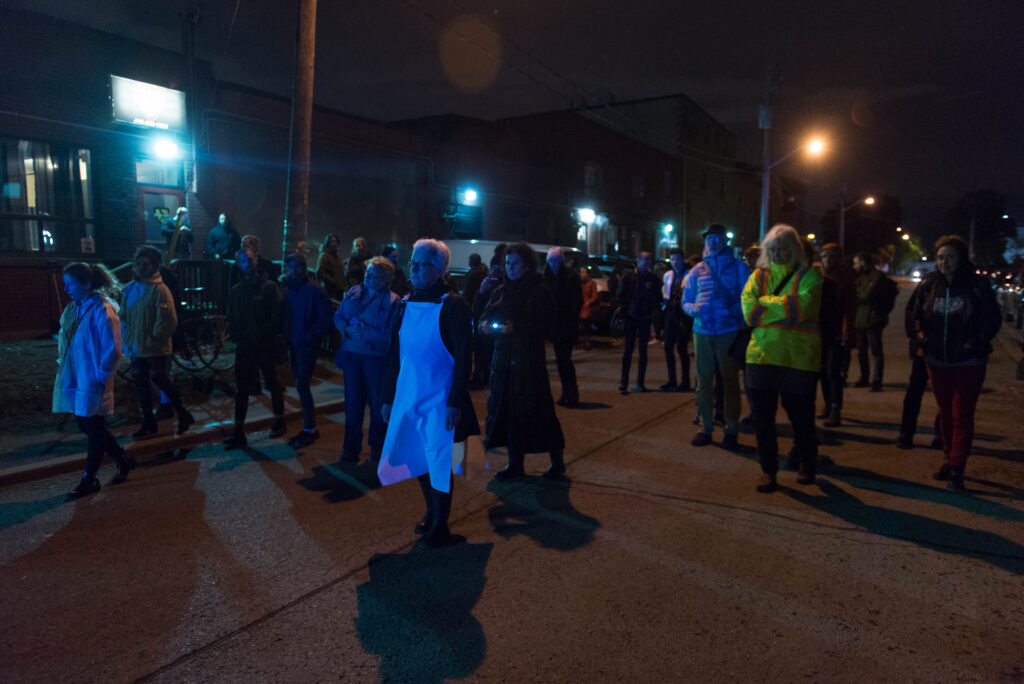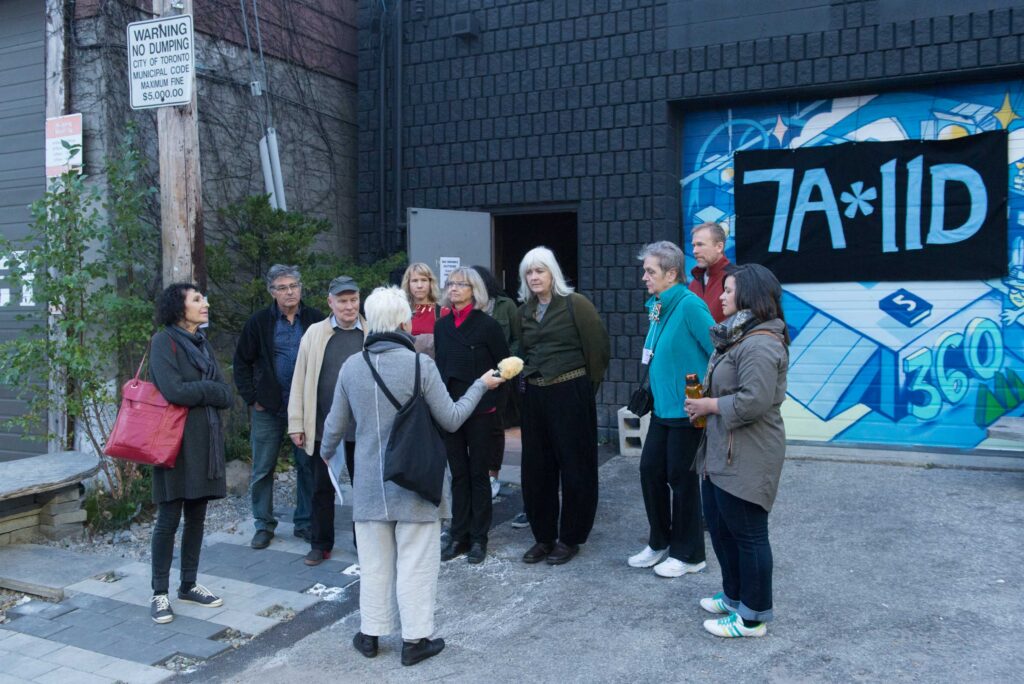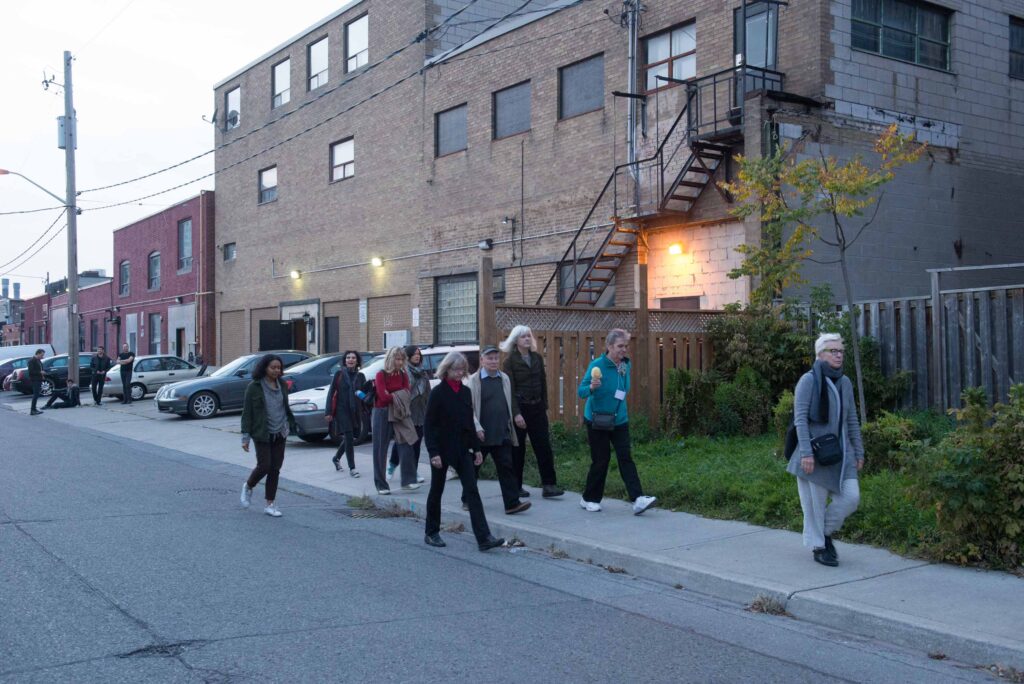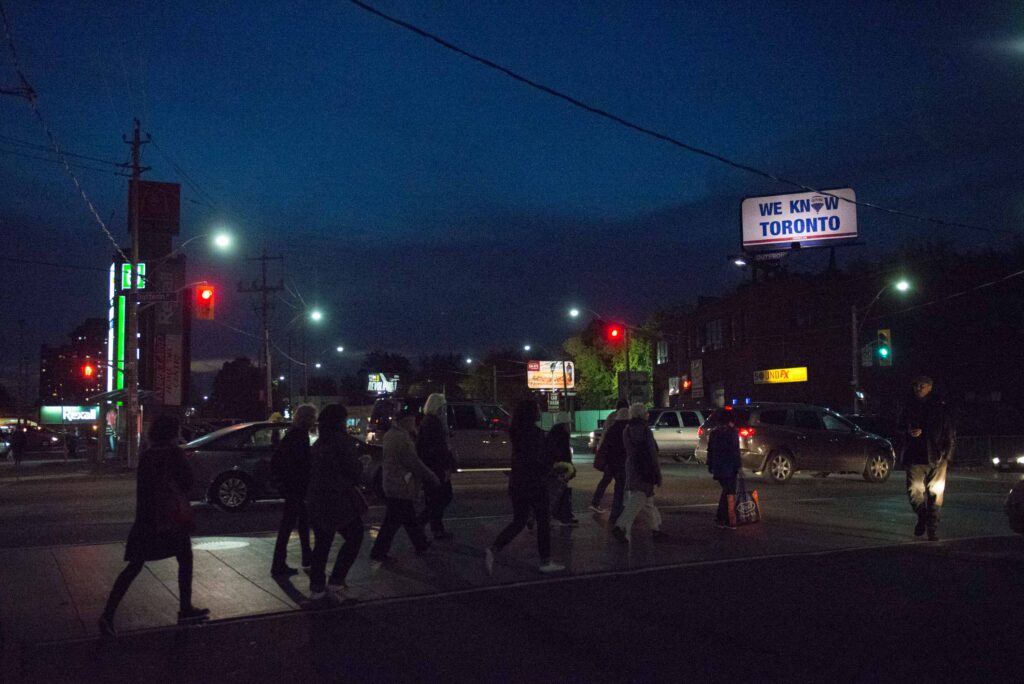 .