By Alison Cooley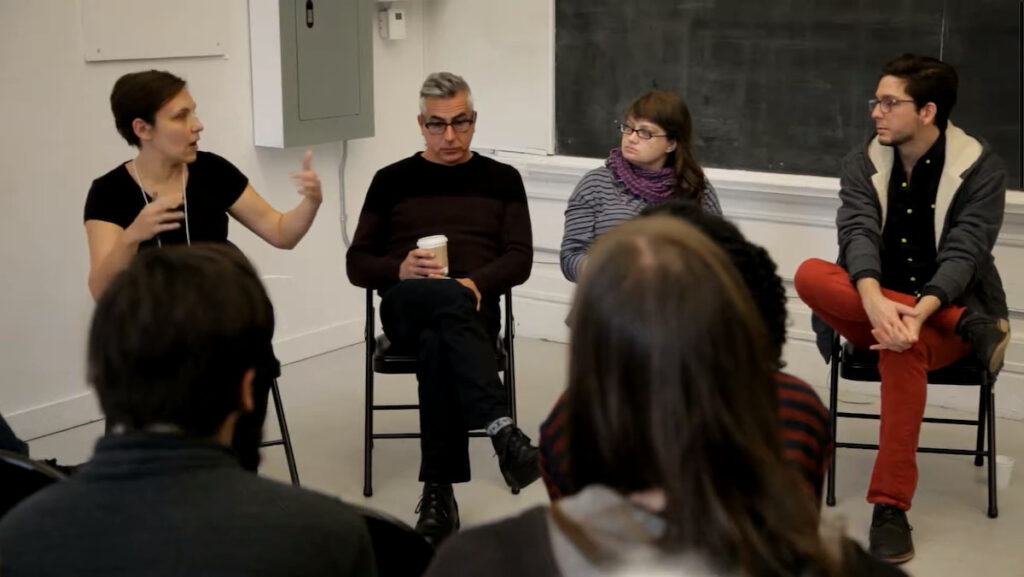 A few ideas stick out from the third Performance Art Daily panel, themed "Approaching Architecture." I am likely to carry these with me through the rest of the festival. The first is Gary Varro's initial interrogation of the whole theme of the panel: where does the notion of architecture manifest in our work? How are the disparate practices of he, Anya Liftig, and Christian Bujold intersecting?
Each panelist raised (and rephrased) a sense of architecture as also a psychic space. For Varro, the tension between interior and exterior architectures is a powerful site for developing queer identity. That the act of refashioning a domestic space (a private, safe architecture), Varro points out, is central to retaining queer identity while flying under the radar— and/or to incubating a more public, vocal, comfortable way of presenting as queer.
Bujold referred to instinctive architectures of psychological space, and to the role of architecture in shaping human interactions in his performances (which deal often with the psychological space of intimacy, of gestures of closeness between people at varying levels of strangeness to each other). Architectural restraints and their potential came to the fore as an element for exploration in his work, with Bujold describing a collaborative performance he did where he and another performer moved towards and away from each other, like magnets attracted and repulsed, around the corner of a building.
Liftig commented on the psychological space of MOMA, and her performance within Marina Abramovic's The Artist is Present, in which she dressed as Marina and sat across from the artist for a full day. Below her, she remarked, she could sense the cash registers of MOMA's entryway, and developed a felt relationship to those transactions. "I could feel the murmur of money," Liftig said. "This empty atrium in prime real-estate space is political architecture."
Bujold introduced the metaphor of the social conditions of performance as a kind of architecture, speaking of his performance earlier this week, In betweens. "When I get someone to be in the performance, I don't wish to instrumentalize them," he said. "Rather, I want them to be able to transform the stucture a bit. There is a risk in that performance. I didn't have a plan, in terms of that narrative unfolding. I wanted to build that structure."
Anya Liftig talked about facing the real possibility of dying during one of her previous performances. The parameters of the performance (its architectural, conceptual foundations?) exceeded her control, and Liftig found herself accounting for her responsibility to not die in front of her audience. Despite the seriousness of this train of thought, Liftig is fucking hilarious.
Varro described the sensation of performing alone at certain points during his durational work, where the solitude of his actions became a space for reflecting on his motivations for continuing, lacking the audience's observing eyes.
Liftig, responding to Varro's question of what it means to perform alone, articulated her own stakes in performance. For me, this is the second major take-away from the day's discussio, a way of framing performance as an embodied imaginary. "Performance, at its heart, is about making the private public. And so when you don't have the energy of an audience member, that desire to connect just shifts. Why does anybody have the desire to stand in front of people? What is that desire?"