By Shannon Cochrane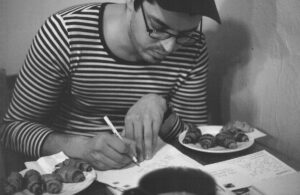 André-Philip Lemke | 1970 – February 12, 2006
André-Philip Lemke was born in 1970 in Wiesbaden, Germany. He was a student of the Kunstakademie (Münster), Chelsea College of Art and Design (London) and Ecole des Beaux Arts (Paris). His work has been exhibited widely in Germany, in Chilé, UK, France, Belgium and Canada, receiving many prizes and stipends from his home country. Before his untimely death in February 2006, he received the prestigious 2005 Chargesheimer-Stipendia from the city of Köln.
From the 2002 7a*11d Festival catalogue:
The ten performances that will occur on ten different days are dedicated to the Ten Commandments. The idea is based on a dream I had where God was preaching about what is not allowed. His angels were there to illustrate the things that are not allowed by performing them. You can imagine that it was quite an amazing and colorful atmosphere in the church, a bit like a fun fair. I want to create a similar atmosphere by making little actions that are dedicated to each commandment. —André Lemke
When André arrived in Toronto for the 4th 7a*11d festival to perform his work The Ten Commandments (live in Toronto), the performances that were to become the backbone and the bookends of the 2002 festival, we were charmed. André was funny, warm, intelligent and diligent. He knew exactly what he wanted to do, what he needed to see, how he wanted to proceed with his work. We started referring to him as The German. "Where is the German?" "Performing on Dundas Street with the pictures of the ladies on the billboards and a bouquet of flowers…in the Eaton Centre wandering around trying to offer proposals of marriage to strange women while sporting a coat of peacock feathers…selling Gotsticks on the street in Chinatown…giving a lecture about work and money on the deck of the indoor pool in Grange Park, meeting with the curator at the AGO trying to convince him to replace the Henry Moore sculpture with one of his performances…" There were so many good answers to that question. Where is The German?
This summer I went to Köln to visit André's old stomping grounds and to say goodbye. I was overwhelmed with the outpouring of grief expressed by his friends, how his community is at a loss over his absence. I think this is the mark of a great artist. André didn't just make objects, performances, photographs and documents. He had the uncanny ability to create experience, and his presence, indistinguishable from the work he made, has a resonance that surpasses his time here. He was a thread stringing together the people who were fortunate enough to experience the lightness of his being and the joy of his concerns.
After André died his good friend Ira wrote to me in an email that André cared little for spiritual concepts and his debate with this life, his existence, was a conversation conducted privately on his own unique grounds. Like a homeopath, André doled out his recipes in small precise doses. Lemke's work was about observing the duality of ordinary phenomena, the ideal of a marketplace that contained no cash boxes, the active exchange of simple ideas for extraordinary beauty. Viewers were unwittingly turned from consumers into accomplices and comrades. He refused to let art become infected with pathos. This is what made his work so engaging, touching both the heart and the intellect with the lightness of a magician.
André wanted to come back to Toronto this fall and participate in 7a*11d again. He won't be here with us this time, but his expansive spirit, delightful humour and accomplished work is remembered and celebrated by his friends and colleagues, his biggest fans.
—Shannon COCHRANE for the 7a*11 collective