2010 8th 7a*11d Festival
7a*11d is pleased to announce the 8th biennial International Festival of Performance Art to Toronto audiences from October 21 – 31, 2010.
The 8th 7a*11d International Festival is the culmination of 14 years of our experiences as a collective, and two years of programming, planning and preparing for the over 30 amazing artists that will descend on Toronto this year. It is also an expression of our pure enjoyment of the work that excites us and inspires us as artists, as curators, and as audience.
It takes all of these things to make a festival, and we are proud to offer once again a collection of the best contemporary performance from what has truly become Toronto's international community. It's a festival, yes, but it is also a gathering, a family reunion, a conference, an object, a bag of tricks, twice behaved behavior, a marathon artist talk, a workshop, a screening, a special event, and a love letter. We are excited to present a larger and more expanded festival than ever before—with daily and evening performance art events presented in association with our gallery partners—first timers Mercer Union, the ever-faithful XPACE Cultural Centre and our home away from home, Toronto Free Gallery; and with adjunct events at Tranzac Club, The Gladstone Hotel and as always, at various outdoor public sites around the city. For the 2010 festival, we have assembled a stunning variety of emerging and established artists from Alberta, Belgium, China, Colombia, Finland, Germany, Japan, Mexico, Northern Ireland, Norway, Nova Scotia, Ontario, Québec, Saskatchewan, Singapore, Sweden, UK, the US, and Venezuela.
In addition to our stellar line-up of evening and daily off-site performance programming, and in collaboration with Toronto Free Gallery, we offer Performance Art Daily, a symposium and series in which invited artists talk about their work as well as the performance practices happening in their own cities and countries, with guest lectures and panel discussions dissecting the compelling issues of global performance.
Bookmark our homepage and check back often for updates, programming changes and the locations of our various off-site artists. Read up on the sights and insights of the festival at 7a11d.blogspot.com where we have commissioned two outstanding writers, Daniel Baird and Natalie Loveless, to chronicle each event.
For the past several festivals we have highlighted the work of iconic Canadian artists, designated as Éminences Grises, "one who exercises great power or influence secretly or unofficially." Not so
secretly, this year we are pleased to honour Michael Fernandes and Sylvie Tourangeau. We invite you to pay special attention to their presentations.
With a jam-packed 11 days of performance art events, panel discussions, video/performance screenings and workshops, this is our unseasonal valentine to Toronto, a lifetime's worth of our crush on performance art.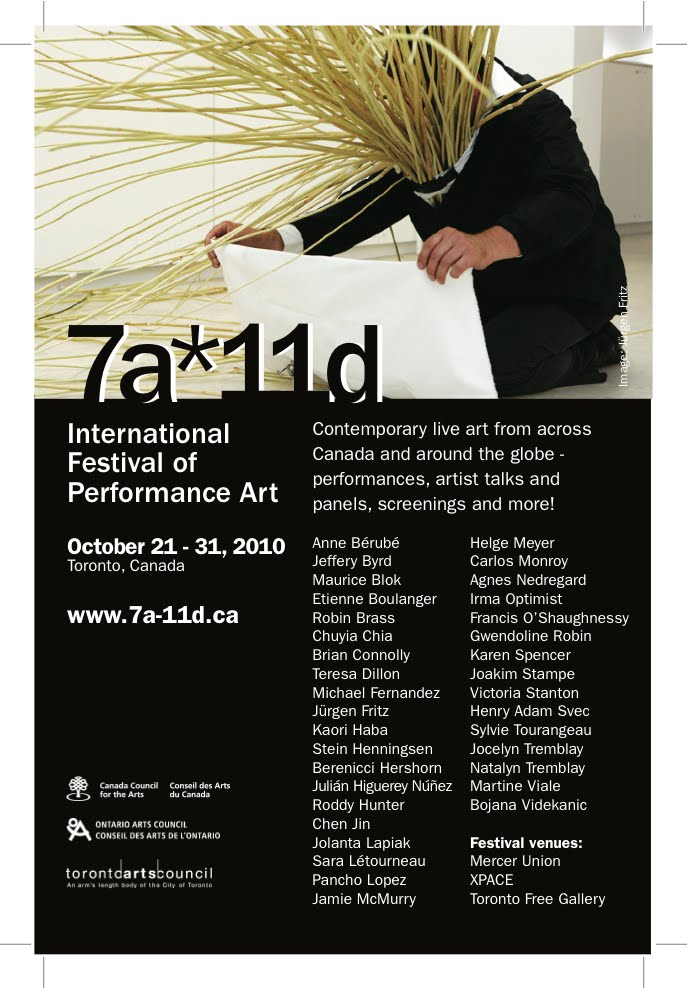 ×
Schedule
Venues/Locations


Mercer Union—A Centre for Contemporary Art
1286 Bloor St W
(just east of Lansdowne Ave)

Toronto Free Gallery
1277 Bloor St W
(just east of Lansdowne Ave)

XPACE Cultural Centre
58 Ossington Ave
(just north of Queen St W)

The Gladstone Hotel
1214 Queen St W
(one block east of Dufferin St)

Tranzac Club
292 Brunswick Ave
(south of Bloor St W)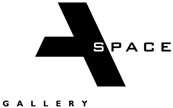 A Space Gallery
401 Richmond St W, Suite 110

FADO Performance Art Centre
401 Richmond St W, Suite 445
Union Station
65 Front St W
Bathurst St south of Front St W
On Bathurst St along the metal bridge that runs over the railroad tracks just south of Front St W
St. Lawrence Market North/Farmer's Market
Front St E & Lower Jarvis St
Kensington Market (St Andrew St)
Just east of Kensington Ave (north of Dundas St W)
d2d.5 = direct to documentation
d2d.5 = direct to documentation
Wednesday October 27 7 pm
The Gladstone Hotel | 1214 Queen St W
Presented in collaboration with Granny Boots
Sponsored by Vtape
Year of the Rat | Finland 2009, 5:00 min | Year-long performance
Annette Arlander is one of the pioneers of Finnish performance art in the '80s, and is one of the trail blazers of artistic research. She is professor of performance art and theory at the Theatre Academy, Helsinki.
harakka.fi/arlander or av-arkki.fi
The T Project | USA 2007, 2:47 min | 9 to 5 working day, part of an ongoing project
Sarah Banasiak & Alexia Mellor are Esbee Enterprises and Mellor Management respectively. Both seek to engage the public through familiar corporate practices and artist collaborations. alexiamellor.com/
Eyelash Extensions | USA 2009, 1:58 min | Performance of everyday life
Rachelle Beaudoin is an artist who uses videoand performance to explore feminine iconography and popular culture. She attended the College of the Holy Cross and she holds a Master's degree in Digital Media from Rhode Island School of Design. rachellebeaudoin.com
Rainwater | USA 2009, 2:00 min | Performance of everyday life
Benjamin Bellas has exhibited his work internationallyat venues such as Contemporary Istanbul; Track 16, Los Angeles; Museum of Contemporary Art, Chicago; Carnegie Museum of Art, Pittsburgh; la Space, Hong Kong; Hyde Park Art Center, Chicago; and Academy of Fine Arts, Helsinki. benjaminzellmerbellas.com
Chain Reaction | Sweden 2009, 3:13 min | One-hour street performance
Anna Berndtson studied at Dartington College, UK and with Marina Abramovic at the HBK Braunschweig. In 2003 Anna and Irina Runge formed the performance duo Tall Blond Ladies. She is currently Artist in Residence at the Fire Station, Dublin, Ireland. berndtson-art.net
Time Out | USA 2001, 5:00 min | Prague, Nov. 2000; Geneva, Feb. 2001; Basel, May 2001
Myk Henry (USA) was born in Dublin, educated in Geneva and lives in NYC. He has been making performances and media installation since the early '90s. mykhenry.com/
How to Feed A Piano | Canada 2008, 2:00 min | Three-hour performance from a series based on La Monte Young's Compositions 1960
Candice Hopkins is an artist and is currently the Sobey Curatorial Resident, Indigenous Art, at the National Gallery of Canada. David Khang is a visual and performance artist, whose practice investigates intersections of languages. Khang works and teaches in Vancouver. davidkhang.com
Turkey's Neck | Sweden 2009, 4:00 min | Three-hour performance over three days
Elin Lundgren & Petter Pettersson are theartistic directors of Lilith Performance Studio in Sweden. Since 2007, they have produced over 22 large-scale performances in close collaboration with artists from around the world. Their common interest lies in the warped and unfulfilled, throwing light upon universal questions about loss and sorrow in their respective artistry. lilithperformancestudio.com
When no one was looking I snuck backstage | Germany 2003, 4:35 min | Performance for video projection
Sophia New received her MA in Feminist Performance from the University of Bristol in 1999. With Daniel Belasco Rogers she is the cofounder of plan b.  planbperformance.net
Young and Innocent | Ireland 2009, 5:00 min | Six-hour performance at the Visual Center for Contemporary Art (Carlow, Ireland)
Lessons in Motivation | Ireland 2009, 2:45 min | Six-hour performance installation, École des Beaux Arts (Avignon)
Declan Rooney currently runs Berlin-based Kunstprojects and is a former Director of the Independent Performance Group. Rooney is a member of the performance groups The New Spastiks (with Herma Auguste Wittstock) and The H*E*R*D Group (with Eunhye Hwang). declanrooney.com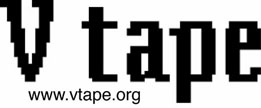 Performance Art Daily
Performance Art Daily
Toronto Free Gallery | 1277 Bloor St W
Artist Talks:
Friday October 22 to Sunday October 24 and Tuesday October 26 to Saturday October 30 12 pm
Closing Panel:
Sunday October 31 2 pm at XPACE Cultural Centre | 58 Ossington Ave
Presented by Toronto Free Gallery in collaboration with 7a*11d.
Performance Art Daily is a noon-hour artist talk show series featuring many of the festival's visiting artists in conversation with local artists. The shows will be recorded live and archived online. This is an opportunity for local audiences to get to know the visiting artists in a relaxed setting. Find out more about the ideas behind the artists' performances and learn about the processes and conditions for creating and presenting performance art in their own countries. The talk show format will include interviews with individual artists and a 'foreign correspondents' section in which artists/curators talk about the festivals and other projects they organize in their own regions. In addition, three special question period sessions (see below) will feature invited guests addressing key performance art issues in a panel format.
The Performative?
Wednesday October 27
The TouVA Collective discusses their research into "the performative." They are currently co-authoring a book project that seeks to reexamine the discourses around performance art and to identify how the performative process is articulated today. Their inquiry involves an active, living discourse that simultaneously informs their collective performances, workshops and artist talks.
Friendly Globalism?
Friday October 29
In his lecture, "Notes Toward 'The Eternal Network in the Era of Globalization", guest artist Roddy Hunter thinks critically about how globalized politics have impacted—and even engendered—an understanding of the art of action. While international performance art festivals tend to be grassroots events organized by artists and tied to local conditions, this session considers to what extent such festivals homogenize cultural differences and normalize particular forms of exoticism. What lasting benefits can be gained from these temporary and nomadic encounters?
Closing Panel: Invaders of the Everyday?
Sunday October 31
The art/life dichotomy was a driving tension of twentieth century art, fuelling the anti-spectacle sentiments of much performance art as well as inspiring the injection of the fantastic and virtual into daily life. Its more recent legacies include the ideals of interactivity and relational aesthetics—but these terms already seem exhausted. Ten years into a new century, this year's panel considers the productiveness of the art/life tension/continuum for performance artists today.

Éminences Grises
Éminences Grise(s)
n. somebody who exercises great power or influence secretly or unofficially.
Inaugurated in 2002, this program highlights 7a*11d's commitment to bringing forward a lived history of performance art by
presenting the work of seminal Canadian performance artists.
2002: Bruce Barber (Nova Scotia)
2004: Cheryl L'Hirondelle (British Columbia)
2006: Rita McKeough (Nova Scotia)
2008: Robin Poitras (Saskatchewan) and Glenn Lewis a.k.a Flakey Rosehips (British Columbia)
2010: Michael Fernandes (Nova Scotia) and Sylvie Tourangeau (Québec)
Parallel Event: RE:Counting Coup
RE:counting coup
Exhibition with KC Adams, Jordan Bennett, James Luna, Archer Pechawis, Lisa Reihana
Curated by Cheryl L'Hirondelle
Friday September 17 to Saturday October 30
Opening: Friday September 17 6:30 pm
Archer Pechawis Performance: Friday September 17 7:30 pm
Curator's talk / reception: Friday October 22 5:30 pm
Artist Panel (Miles Nadal Centre): Saturday October 23 10 am
A Space Gallery | 401 Richmond St W, Suite 110
Presented by A Space Gallery and imagineNATIVE Film + Media Arts Festival.
Archer Pechawis' performance on September 17 is co-presented by A Space Gallery, imagineNATIVE Film + Media Arts Festival and FADO Performance Art Centre.
RE:counting coup is a new media exhibition that looks at the relational history of indigenous object making with that of a contemporary visual and new media art practice. Curated by Cheryl L'Hirondelle, this group exhibition profiles innovative works by KC Adams, Jordan Bennett, James Luna, Archer Pechawis and Lisa Reihana. These artists' works attest to Indigenous ingenuity with the realization of performative objects, installations and events that move far beyond what has been over-simplified as solely an orally-centered transmission process to that of an ever-evolving and inventive multi-media tradition.
Parallel Event: La Nostalgia Remix
La Nostalgia Remix
Guillermo Gómez-Peña & James Luna
Saturday October 23 8 pm
Tranzac Club | 292 Brunswick Ave
$12 (Advance tickets 416-913-0461)
Presented by Red Sky Performance and Toronto Free Gallery with the support of Ryerson Gallery and Research Centre and The Trudeau Foundation. Co-presented in association with the imagineNATIVE Film + Media Arts Festival and 7a*11d.
La Nostalgia Remix is the last project in The Shame-man… series, which was launched in 2007 and uses nostalgia as style, a form of resistance, and reinvention. Remix is a series of live performances that explore the cultural, symbolic, and iconographic dimensions of nostalgia both on the Native American 'rez' and in the Chicano 'barrio.' Since the early '90s, performance artist/writer Guillermo Gómez-Peña and Native American conceptual artist James Luna have worked on the ongoing project The Shame-man meets El Mexican't, in which they challenge assumptions and lazy thinking about race and culture in our society with a strong dose of melancholic humour and sharp-edged conceptualism. By using performance, writing, photography and video, the artists have remained flexible and relevant to our shifting culture.
Performance artist/writer Guillermo Gómez-Peña resides in San Francisco. He is the Artistic Director of La Pocha Nostra, a "trans-disciplinary arts organization that provides a base for a loose network and forum of rebel artists from various disciplines, generations and ethnic backgrounds".   www.pochanostra.com
James Luna (Puyukitchum/Luiseño) resides on the La Jolla Indian Reservation in North County, San Diego, California. His installations have been described as transforming gallery spaces into battlefields, where the audience is confronted with the nature of cultural identity, the tensions generated by cultural isolation and the dangers of cultural misinterpretations, from an Indigenous
perspective.
Parallel Event: Performance as Encounter workshop
Workshop: Performance As Encounter with Agnes Nedregard
Saturday October 16 to Wednesday October 20 10 am – 6 pm
Toronto Free Gallery | 1277 Bloor St W
Cost: $250 (does not include food, materials or accommodation)

FADO Performance Art Centre is pleased to offer a 5-day performance art workshop facilitated by Norwegian performance artist and educator Agnes Nedregard. This workshop is offered leading up to the dates of the 7a*11d International Festival of Performance Art (October 21 – 31, 2010). Workshop participants will then present short works in early afternoon sessions and in the public realm on the first two days of the festival for festival audiences and visiting artists, organizers and curators.
FADO will not turn anyone away due to inability to pay the full fee for the workshop. We offer this workshop at a reasonable fee so no one is restricted. If you have financial concerns, please contact us. If you are traveling from outside of Toronto, we can help you to find reasonable accommodation to fit your budget.

Workshop Description:
This workshop will focus on the performance as an encounter in real time.
-Encounter with space
-Encounter with material
-Encounter between performer(s) and audience
Question: You might know something about what you are bringing as performer, but what does the audience bring to the performance?
There will be an emphasis on process through exercises, using our bodies and creating material, trying to get a bit further in how to be present in a performative encounter. The students will work individually and in groups. Students are asked to bring an open mind and wear loose clothes.
Programme:
Day 1: Encounter between body and space
Day 2: Encounter between body and material
Day 3: Encounter between bodies
Day 4: Encounter with time and memory
Day 5: Encountering yourself in meeting with the other
TO APPLY
Please send a short description of your experience as it relates to the workshop, performance art or related interests, including a brief statement of what you hope to gain from this experience. If you have a CV, artist bio and images of previous work, you are welcome to send those as well.
The workshop is open to students, visual artists, performance artists, as well as non-artists, non-students, and non-performance artists. ALL WELCOME.
Workshop will have a maximum of 8 participants.
Please contact FADO as soon as possible to secure your spot.
50% non-refundable deposit of fee is due on confirmation of participation.
Remaining balance is due on or before October 16, 2010.
Cheques can be made payable to Fado Performance Inc.

Festival Eyes and Ears
Henry CHAN has been documenting performance art in Toronto since 2006. He has photographed the last two 7a*11d festivals, the activities of FADO Performance Art Centre, as well as events, exhibitions and performances at various contemporary art venues in the city including The Images Festival and The Power Plant Contemporary Art Gallery. When he is not using a camera, Henry is crunching numbers and pushing paperwork as an accountant.
Born in Los Angeles, Daniel BAIRD lived and worked in New York City from 1989, where he was a founder of The Brooklyn Rail, a magazine for which he worked as an art editor, feature writer, and monthly columnist. Since moving to Toronto in 2000, he has written on the arts for numerous Canadian publications, including Canadian Art and Border Crossings. He is the former editor of The Walrus, and remains a regular contributor on topics as diverse as contemporary art and history, political theory and religion. Daniel's blog posts are marked '(DB)'
Natalie LOVELESS is an artist, teacher and writer. She recently completed a PhD from the University of California, Santa Cruz, on transdiciplinarity and its implications for new models of pedagogy and socially engaged art practices. She is a visiting assistant professor in the Visual Arts Department of the University of Western Ontario and is on the editorial board of >> liminal << the journal of new performance. Natalie's blog posts are marked '(NL)'.