2008 7th 7a*11d Festival
7a*11d is pleased to present the seventh International Festival of Performance Art from October 23 to November 2, a culmination of 11 years of working together as an artist-run collective. In order to celebrate this accomplishment, the 2008 7a*11d festival is nothing less than an international survey of global live art – progressive and provocative new performance works by over 30 local, national and international performance artists. The festival hosts residencies, performance art events, panel discussions, artists' talks, video/performance screenings, and workshops in 11 jam-packed days.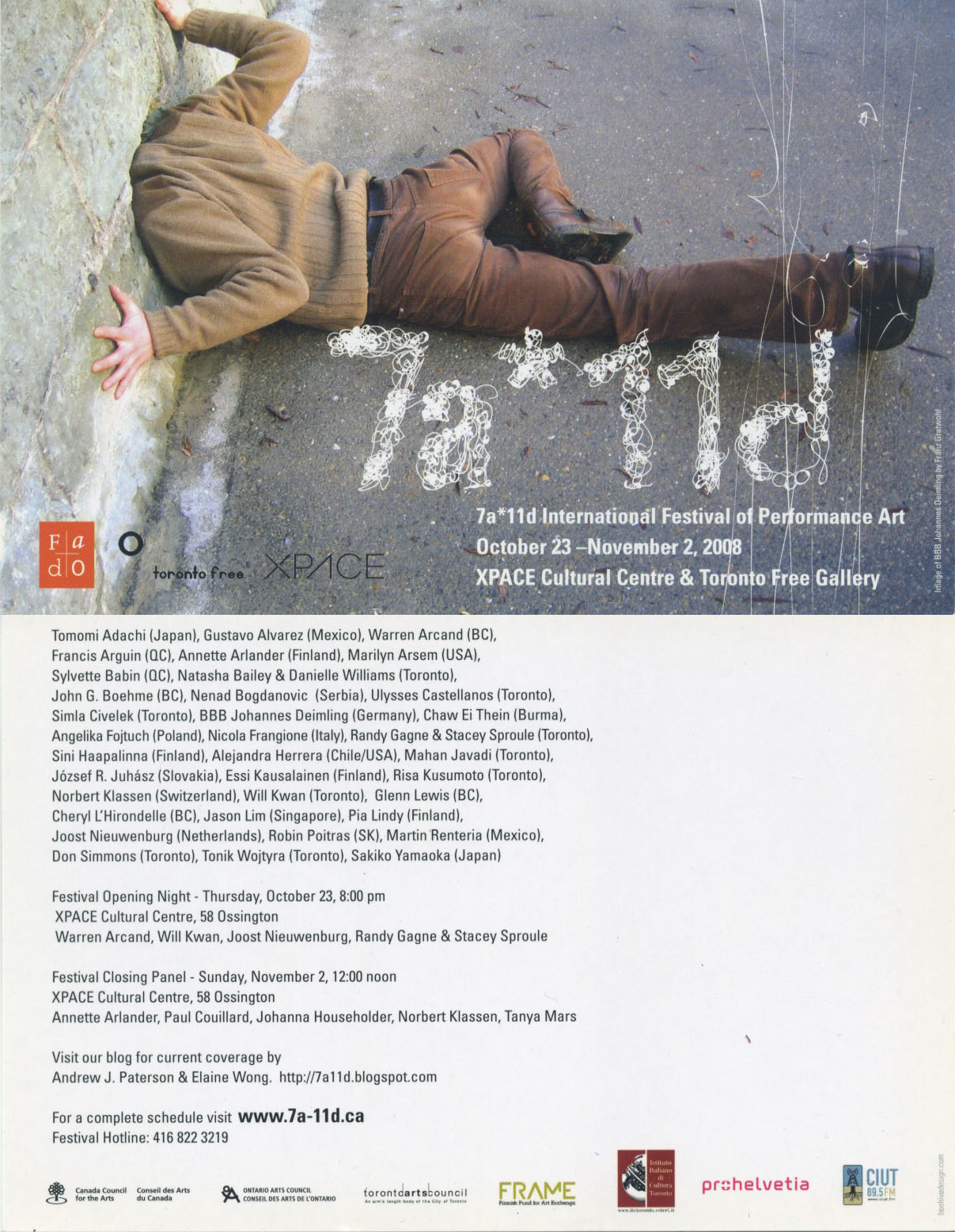 ×
Schedule
Venues


XPACE Cultural Centre
58 Ossington Avenue



Toronto Free Gallery
1277 Bloor Street West


Gladstone Hotel
1214 Queen Street West


The Fleishman Gallery at WonderWorks
79A Harbord Street (west of Spadina)
Creative Residents
The 7a*11d International Performance Art Festival marks the occasion of our 7th Festival and our 11th year of programming by inviting seven artists of international stature to celebrate with us through Creative Residencies taking place during the eleven days of the Festival. The residencies begin October 13 and overlap throughout the Festival. These Creative Residencies allow us to support a depth of engagement and further the means of the processes of creation. This is especially relevant in the context of a performance, as much work is based in process – social, interactive, personal, material, and conceptual. The residencies will allow durational work to unfold and artists who respond to site or who wish to work with particular groups to have the support to do so. We have invited artists whose work is a provocative mix of approaches, aesthetics, cultural backgrounds and range of experience: two of the Residents are the 2008 Éminences Grises, Glenn Lewis and Robin Poitras. The Residencies by these seven artists will give 7a*11d audiences the opportunity to engage personally and intensively with the residents, while affording the artists the time and space to work and to have a more meaningful relationship with various Toronto communities and individuals.
The Seven Creative Residents are:
Gustavo Alvarez (Mexico) *
Warren Arcand (BC)
Sylvette Babin (QC)
Norbert Klassen (Switzerland)
Glenn Lewis (BC)*
Robin Poitras (SK)*
Chaw Ei Thein (Burma)
*Creative Residents Gustavo Alvarez, Glenn Lewis and Robin Poitras will be performing in various locations throughout the Festival.
Éminences Grises
Éminence Grise n. somebody who exercises great power or influence secretly or unofficially...
One ongoing aspect of the 7a*11d Festival is the designation of Éminences Grises. This program highlights our commitment to bringing forward a lived history of performance in Canada by presenting seminal artists. Inaugurated in 2002 with Bruce Barber, it was continued in 2004 with Cheryl L'Hirondelle Waynohtêw, and in 2006 with a residency by Rita McKeough. Realizing that it would take 20 years to present the best of Canadian performance history one at a time, this year we have invited two artists for this special recognition: Robin Poitras (SK) and Glenn Lewis (a.k.a. Flakey Rosehips) (BC). Diverse in their origins and practices, both Poitras and Lewis will develop new work and present it during the Festival. Though educated at York University, Robin Poitras has never presented her work to an Ontario audience. And Glenn Lewis has not made a performance in Toronto since 1984.
d2d.4 = direct to documentation 2008
d2d.4 = direct to documentation
Wednesday October 29 7:30 pm
The Gladstone Hotel | 1214 Queen St W
Presented in collaboration with Granny Boots
Sponsored by Vtape
d2d began in 2000, when we received such compelling support material in our call for submissions that we decided to solicit performance documentation and performance for the camera in our Open Call as well. This fourth installment has something for everyone and from everywhere; straight-up documentation from Vancouver, live YouTube from New Hampshire, luscious film from Russia, and complete deadpan from the Netherlands. Off the wall, on the wall, watch that wall! If there is a common theme this year, I'd call it: total commitment. Programmed by Johanna Householder and Adam Herst.
Webisode #25 – How To Wax, Dec. 8 | USA 2007 | 4:30
Rachelle Beaudoin is a new media artist who uses installation, sound, and performance to explore feminine iconography, raunch culture, and the social space.
An attempt to get struck on the head by a falling plant knocked over by my cat | Netherlands 2007 | 2:24
Feiko Beckers is an artist, a curator (Medium Gallery, Groningen), and a member of the noise collective Electricity is our hobby, and the artist collective PassenpoP. He lives and works in Groningen, the Netherlands.
untitled (clown car) | Canada 2007 | 3:10
Jess Dobkin's performances, artist's talks and workshops are presented at museums, galleries, theatres, universities and community centres internationally. She creates innovative live and video solo performances, as well as multiple artist productions.
By a thread | Canada 2002 | 1:09
Linda Rae Dornan is an interdisciplinary artist creating performance art, video, and audio art about language, loss, love, communication and caregiving. She lives in Sackville, NB where she has an audio art radio show every week on CHMA 106.9 FM, the Voice of the Marshes in Sackville.
New Orleans | Italy 2007 | 3:40
Enrico Gaido and Alessandra Lappano are installation, performance, and video artists who founded Portage in Turin in 2004.
Adam Goodge and Katrine Brosnan (UK)
The Young Ones | UK 2006 | 2:00
Adam Goodge and Katrine Brosnan are a recently formed collaborative pair based in Nottingham. They have begun to develop a practice which combines their previous work, with their interest in the mundane and the celebrated, reinterpreting culture, and questioning their identity as artists.
After The Sheep | Turkey 2007 | 3:41
Sinasi Gunes works in installation, photography, painting, and video art and is based in Istanbul.
Learning How to Milk a Cow from My Father / My Father Was a Dairy Farmer: Hands on Workshop | USA  2006 | 4:00
Nathaniel Katz's current work draws from his experience as a public high school teacher. He looks at, exploits and challenges the inherent power structures that are present in relationships that are conceived within the traditional hierarchical system of American education.
Kaleidoscope Peepshow | Singapore 2004 | 2:27
Lynn Lu is an installation/performance artist from Singapore. She received a BFA from Carnegie Mellon University with a major in Sculpture and a minor in Graphic Design in 1999.
Hill Station | Canada 2007 | 5:00
Riaz Mehmood is film, video, photography and performance artist originally from Pakistan. He graduated from the Integrated Media program at OCAD in 2005.
The Slippery Mountain | Russia 2006 | 6:05
Galina Myznikova and Sergey Provorov (PROVMYZA) worked as television authors and directors in Nizhnij Novgorod, where they began to work with concepts of non-verbal information. Since 1996 they have created projects in the sphere of cinema and contemporary art. In 2005 they represented Russia with their innovative project Idiot Wind at the 51st Venice Biennial.
Mistake of Vision: Floor | UK 2007 | 1:51,
Mistake of Vision: Walls | UK 2007 | 1:08
Anthony Schrag was born in Zimbabwe and grew up in the Middle East, the UK and Canada. He has a BFA in Creative Writing from UBC. His novel was a semi-finalist in the Robertson Davies/Chapters First Novel Competition and GreenBoatHouse Books published Moving Pictures, his first book of poetry. He dropped the writerly façade and studied at Emily Carr Institute, later obtaining an MFA from the Glasgow School of Art, where he currently resides in that dark & angry city.
Egg Shells | Canada 2005 | 5:00
Victoria Singh is a "half-breed" South Asian multidisciplinary artist, curator and children's art teacher, from New Zealand now living in Vancouver. Her practice began with a strong basis in visual art and has morphed into a concentration on performance. In addition to her public works Singh and her son Kurtis Champion are involved in a 7-year LIFE/ART collaboration with Linda Montano which started in 2004.
Cuarto #2 [Room #2] | Peru 2004 | 1:48
Pilar Talavera is an installation and performance artist from Peru.
Panel: Terms of Engagement: Presence and the Performative
Terms of Engagement: Presence and the Performative
Sunday November 2 12 pm
XPACE Cultural Centre
One of the working titles proposed for this panel discussion was Performativity ≠ Performance. Admittedly there is a combative undertone to this stance. The collective had recently reviewed hundreds of submissions to the festival, and there remained an impression that many artists want to pursue ideas or execute actions that seem tailored to appear like performance, without actually making a commitment to engaging an audience. It seemed that the performative gesture might be making a bid to replace performance. But is engagement an essential constituent of performance? If so, what might constitute engagement with and for the performance/artist? For some engagement has been taken up to describe "artists working in the public realm and engaging communities within their art practices. Community Public Art, Interventions, Relational Art and Art Engaged Activism…" (Live in Public – The Art of Engagement, a three-day conference held in Vancouver in October, 2007), leaving other forms of performance art unmoored. Since performative can now describe buying a newspaper and performance describes everything from bein' a DJ to being a VJ, can presence stand up to performativity? Confounding this question, one of the panelists will be with us via Skype.
Also accompanied by interventions from Norbert Klassen.
Panel Bios
Annette Arlander lives in Helsinki, where she is Professor in performance and theory at the Theatre Academy. She graduated from the department of directing at the Theatre Academy in 1981 and completed her studies for Doctor of Arts (Theatre and Drama) there in 1999. During the '80s she worked with performance art in the group HOMO $. In the '90s Arlander studied the use of space in performance, especially the theatrical use of found spaces and site-specific work, and published Esitys Tilana (Performance as Space) in 1998. From 2000 most of her work has been concerned with performing landscape by means of video or recorded voice.
Paul Couillard has been working as an artist, curator, and organizer since 1985. He has created well over 100 solo and collaborative performance works in more than a dozen countries, often working with his partner Ed Johnson. He was the Performance Art Curator for Fado from 1993 until 2007, and is the editor of La Dragu: the Living Art of Margaret Dragu (2002) and Ironic to Iconic: the Peformance Works of Tanya Mars (2008).
Tanya Mars has been active in the Canadian alternative art scene since the early 1970s. Her dramatic, humorous and satirical works – ranging from performance through to sculpture and video – have influenced an entire generation of artists over some 30 years. She currently teaches at the University of Toronto Scarborough. She received a 2008 Governor General's Award in Visual and Media Arts. Tanya will appear via Skype from the Canada Council for the Arts Paris Studio.
Johanna Householder has been making performances and other artwork in Canada since the late 1970s. She was one of the notorious, satirical feminist performance lip sync ensemble, The Clichettes, who performed throughout the 1980s, and has continued to use these strategies in her subsequent performance work, recently performing Alain Badiou and DJ Spooky. With Tanya Mars, she co-edited Caught in the Act: an anthology of performance by Canadian women (2004). She is a Professor at the Ontario College of Art & Design.
Parallel Event: Cheryl L'Hirondelle
Cheryl L'Hirondelle
êkâya-pâhkaci
Thursday October 16 8 pm
Toronto Free Gallery
Presented by FADO Performance Art Centre in conjunction with the 2008 imagineNATIVE Film + New Media Festival.
Cheryl L'Hirondelle's êkâya-pâhkaci [ee-guy-uh-puck-a-chee] (don't freeze up) operates through an intersection of nomadic site-specificity, visual patterning, language, narrative, movement and rhythm. In this work, Cheryl stages a performance presented under an adaptable traveling tent from where she relates and offers information to the audience using her body, voice and graffiti/tagging. The audience, by proximity and in accepting her invitation to witness her activities, "comes in from the cold" and becomes part of her "camp."
Cheryl L'Hirondelle (aka Waynohtêw, Cheryl Koprek) is an Alberta-born half-breed (Métis/Cree-non status/treaty, French, German, Polish) artist and musician. Her creative practice is an investigation of the junction of a Cree worldview (nêhiyawin) in contemporary time and space. Since the early '80s, L'Hirondelle has created, performed and presented work in a variety of artistic disciplines, including: music, performance art, theatre, performance poetry, storytelling, installation and new media. In the early '90s, she began a parallel career as an arts consultant and programmer, cultural strategist/activist, and director/producer of both independent works and projects within national artist-run networks.
Parallel Event: Lezli Rubin-Kunda
Lezli Rubin-Kunda
Outside In
Friday October 17 7 pm: Opening Reception & Performance:
Saturday October 18 to Friday October 31 11 am – 6 pm: Exhibition of videos continues
Fleishman Gallery (at WonderWorks)
Housekeeping (2007) 13:35
In a series of short video "poems," the artist interacts with the objects and spaces of her house and garden in Ramat Hasharon, Israel.
A Walk with Mask, Streamers, and Sardine Cans (2007) 4:00 (performance documentation, Grande Churrasco Performance Meeting)
During a festival honouring the local saint, the artist makes her way through the streets of the old quarter of Lisbon.
Down to Earth (2006) 2:30 (performance documentation, eBent Festival)
The artist carries out spontaneous rituals of engagement and immersion with earth and other collected local materials.
Lezli Rubin-Kunda grew up in Canada and lives in Israel, where she teaches in the Architecture and City Planning department at the Technion, Haifa. Her performances and videos have been shown at many venues and festivals, and she has given lecture presentations of her work at various educational institutions.


Parallel Event: Coleman Lemieux & Compagnie
Coleman Lemieux & Compagnie
Hymn to the Universe / Le Milieu divin
Tuesday October 21 8 pm
Palais Royale (1601 Lakeshore Blvd. West)
Hymn to the Universe / Le Milieu divin is a new work created by choreographer Bill Coleman telling the story of the universe through the visionary philosophy of Teilhard de Chardin and the music of Sun Ra, "King of Afro-psychedelia." Music performed by 15-piece Sun Ra Arkestra under the direction of Marshall Alan. Supported by designer Liz Vandal (La La La Human Steps, Marie Chouinard) and award-winning Métis visual artist Edward Poitras.
Based in Montréal, Coleman Lemieux & Compagnie create, produce and present works of art on a local, national and international scale. Company works include those choreographed by Artistic Directors Laurence Lemieux and Bill Coleman, as well as commissions and collaborations with choreographers, composers, visual artists and communities. Laurence Lemieux and Bill Coleman have been working together since 1991 on unique projects of artistic and social relevance.
Parallel Event: What is Important? Workshop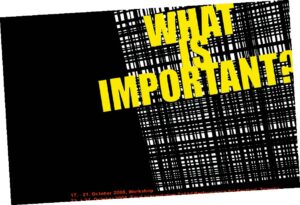 What is Important? Performance Art Workshop with BBB Johannes Deimling
Friday October 17 to Tuesday October 21 Workshop
Thursday October 23  5 pm Participant performances
Friday October 24 5 pm Participant performances
Toronto Free Gallery
Presented by FADO Performance Art Centre
Offered as a declaration, a challenge, a list, and a question, What is Important? gathers students and emerging artists of all levels for a 5-day immersion in the processes and creation of a new performance work. The workshop culminates in two public performances where participants will present their findings, their own visions, and versions of "what is important" in performance.
For the past 10 years, BBB Johannes Deimling has devoted much of his artistic practice to working directly with young, emerging and fellow performance artists in intensive workshop environments. During the workshop, participants will work with a variety of techniques and exercises Deimling has developed over the years, meant to focus one's own perception of personality, develop skills to communicate with the body, and transform ideas into a performative work. Personal perception and experience colour and characterize how we communicate and deal with the body in time and space during performance. The main objective of the workshop is to understand the body as a tool and to use this tool to communicate effectively.

Festival Bloggers (Eyes and Ears)
With this year's incredible line-up of activities, we know you won't want to miss a thing. But in case you do, 7a*11d is offering a new feature this year: a festival "blog" with daily critical commentary (description, introspection, cultural implication, and maybe just a tad of gossip…) and interviews with participating artists by selected local writers. Our team includes 7a*11d performing alumni and artist-about-town Andrew J. Paterson and up-and-coming playwright Elaine Wong, as well as photographer Henry Chan. Even if you were there, you'll want to read what they have to say and see Henry's amazing images.
Andrew James Paterson is an interdisciplinary artist working with video, film, performance, writing, publishing, and music. He has presented and performed work locally, nationally, and internationally. His body of work has been characterized by a fascination with relationships between bureaucracy, technology, and bodies. Dynamics between performers and audiences has been another recurring obsession. Paterson performed in the first two 7a*11d festivals, and has been an enthusiastic observer at all of the others.
Elaine Wong, a recent graduate of McMaster University, has been involved in theatre production for eight years, and has been writing for even longer. Her most recent effort combining the two was the play she co-wrote for the McMaster Honours Performance Series, 16 Stunning Storeys from the City Streets, a piece examining the definition of street art and audience interaction.
This is Henry Chan's second time documenting the 7a*11d festival. Since 2006, he has also photographed the activities of FADO Performance Art Centre, as well as events, exhibitions and performances at various contemporary art venues in the city including The Images Festival and The Power Plant Contemporary Art Gallery. When he is not using a camera, Henry is crunching numbers and pushing paperwork as an accountant.