2017 7a*md8
7a*md8 consists of a series of multi-platform performance-for-the-camera screenings and digital residencies distributed across a range of Toronto cultural spaces as well as online platforms. The Toronto Performance Art Collective (TPAC) has a record of supporting  a diversity of practices in the field of performance art. Expanding from our established festival format, we would like to create points of access for Toronto artists working at the intersection of performance and new media forms, as well as  those who may find it difficult to travel to Toronto due to remoteness, disability, personal obligations, or political circumstance. 7a*md8 explores new ways for TPAC to address these concerns. Harnessing the potential of  the proliferation of Internet platforms for disseminating performance videos, 7a*md8 offers a fresh approach to performance and new media curation, featuring three distinct events that examine contemporary developments in the relationship between body art, lens-based practices and the politics of access.
Responses to the project by commissioned writers Jenn Snider (Meditation on Mediation as Medium) and Delilah Rosier (Residencies of Resistance; Or, Performatively Flexing for the 'Gram) are posted on our blog.
7a*md8 – LIVE STREAM
Thursday December 14, 2017, 6 – 9 pm
Screenings of the documented streams will continue through Saturday December 16, 2017
Trinity Square Video
401 Richmond Street West, Suite 121
Presented in partnership with Trinity Square Video
View the archived compilation of the live stream.
Maryse Arseneault
Ali Asgar
Ivanie Aubin-Malo
Jef Carnay
ee portal
Maggie Flynn
Romi Kim
Russell Louder
Freya Björg Olafson
Luis Manuel Otero Alcántara
Camila Salcedo
Selma Selman
Liz Solo
7a*md8 – ON LINE
Sunday December 3 – Saturday December 9, 2017
Syrus Marcus Ware
Sunday November 26 – Saturday December 2, 2017
Bishara Elmi
Sunday November 19 – Saturday November 25, 2017
jes sachse
Sunday November 12 – Saturday November 18, 2017
Natasha Bailey
Sunday November 5 – Saturday November 11, 2017
Yolanda Duarte
Sunday October 29 – Saturday November 4, 2017
Jessica Karuhanga
Sunday October 22 –  Saturday October 28, 2017
Nadège Grebmeier Forget
Sunday October 15 – Saturday October 21, 2017
Kiera Boult
Sunday October 8 – Saturday October 14, 2017
Mohammad Rezaei
Sunday October 1 – Saturday October 7, 2017
sab meynert
7a*md8  – ON SCREEN

Thursday August 24, 2017
7 pm
291 Lake Shore Boulevard East (just west of Parliament St.)
Presented in partnership with Art Spin and Waterfront Toronto in conjunction with Desire Lines
Saturday June 10, 2017
7:30 – 9 pm
201 Guildwood Parkway Scarborough
Presented in partnership with (Un)settled
Lisa Birke
Erika DeFreitas
Johanna Householder & b. h. Yael
Merritt Johnson
Cressida Kocienski
Cheryl L'Hirondelle
Manolo Lugo
Julieta María
Zinnia Naqvi
Michèle Pearson Clarke
Lisa Steele
Tadasu Takamine
Alize Zorlutuna
This error message is only visible to WordPress admins
Error: API requests are being delayed for this account. New posts will not be retrieved.
Log in as an administrator and view the Instagram Feed settings page for more details.
Schedule
7a*md8 - Live Stream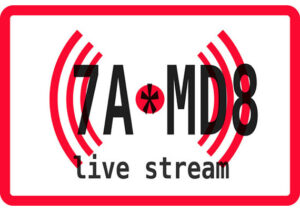 Live stream adddress: https://www.youtube.com/user/7a11dfestival/live

7a*md8 Live Stream is the third and final stage of our multi-platform exploration of performative practices in the digital age. Artists in 7a*md8 Live Stream examine contemporary developments in the relationship between body, lens-based practices and the politics of access. This includes an interest in exploring notions of being simultaneously near and far across a range of social relations, thinking about access and location not only as a barrier, but indeed as a political choice. For artists working in performance, video-broadcasting platforms like YouTube, Facebook, and Instagram Live provide an instant and accessible medium for documentation and dissemination. This allows, among other possibilities, for ongoing, cumulative performance practices that can record everyday situations at home and work spaces that have not always been accessible to a general public.
Artists will present new performance works from a variety of locations across the globe live streamed at Trinity Square Video in Toronto on December 14, 2017.
7a*md8 Live Stream artists include Maryse Arseneault, Ali Asgar, Ivanie Aubin-Malo, Jef Carnay, ee portal [Elyse & Emilio Portal], Maggie Flynn, Romi Kim, Russell Louder, Freya Björg Olafson, Luis Manuel Otero Alcántara, Camila Salcedo, Selma Selman, and Liz Solo.
7a*md8 Live Stream archived compilation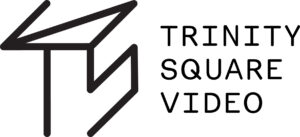 7a*md8 - On Line
7a*md8 On-Line features a series of social media residencies highlighting contemporary artists' use of interactive online platforms to develop performance works that find new ways of connecting with audiences. For artists working in performance, video-capture platforms like Snapchat, Periscope, Vine and Instagram provide an instant and accessible medium for documentation and dissemination. This allows, among other possibilities, for ongoing, cumulative performance practices that can record everyday situations at home and work spaces that have not always been accessible to a general public. These projects will be hosted on 7a*11d's website and social media platforms and featured at a public launch at Trinity Square Video in December.
7a*md8 On-Line artists include Natasha Bailey, Kiera Boult, Yolanda Duarte, Bishara Elmi, Nadège Grebmeier Forget, Jessica Karuhanga, sab meynert, Mohammad Rezaei  jes sachse, and Syrus Marcus Ware.
7a*md8 On Line artist interviews
7a*md8 - On Screen
7a*md8 – On Screen is a collection of performances designed specifically for the camera by local, national and international artists. In the past few years we have seen how the camera has played a major role in bringing attention to narratives, events and bodies marginalized from the general public. Lens-based media and online platforms have created new possibilities for self representation. The artists selected for this series will speak to our relationship to media as a form of accessible communication in the face of unevenly permeable borders.
7a*md8 – On Screen artists include Lisa Birke, Erika DeFreitas, Johanna Householder & b. h. Yael, Merritt Johnson, Cressida Kocienski, Cheryl L'Hirondelle, Manolo Lugo, Julieta María, Zinnia Naqvi, Michèle Pearson Clarke, Lisa Steele, Tadasu Takamine, and Alize Zorlutuna.
(Un)settled
(Un)settled is a site-specific exhibition and residency that sets out to investigate and unsettle the history of the Guild Park and Gardens—formerly the Guild of all Arts—in Scarborough, which has grown from a collection of rural communities into a dense and culturally diverse urban sprawl on the eastern flank of Toronto. Curated by Bojana Videkanic.
For more information about (Un)settled visit http://www.unsettledproject.com
FREE TRANSPORTATION
A free bus service will be provided from downtown Toronto (Dundas St. W. south side in front of the AGO at the designated Motor Coach Loading Area) to the Guild Park and Gardens on Saturday June 10. To reserve a spot on the bus please e-mail bojana.videkanic@uwaterloo.ca. Please include your name, e-mail address and June 10th in the subject line. The spots on the bus are limited and are on a first-come-first-serve basis.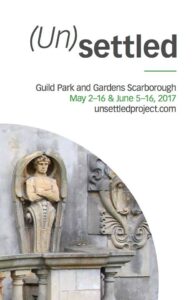 Desire Lines
Desire Lines is a visual art exhibition showcasing notable regional artists presenting artwork from a wide variety of disciplines and curated by Art Spin's Layne Hinton & Rui Pimenta, organized by Art Spin in partnership with Waterfront Toronto.
This exhibition responds to themes that deal with the highly nuanced dynamic of placemaking and what constitutes the concept of home, as well as exploring our complex and storied relationship to our waterfront. Desire Lines is curated in both a massive 8000 sqft. warehouse and retired condo presentation centre with many works responding to the unique features of the space itself.
Location:
291 Lake Shore Boulevard East (just west of Parliament St.)
Look for a painted white warehouse. The exhibition is fully accessible. The space, which is just south of the Distillery District, can be accessed easily by bicycle from the Waterfront Trail, or by car via Queens Quay, there is a paid parking lot available on site.
Opening Night Reception & Party: Thursday, August 24, 7 pm – 1 am
Exhibition Runs: August 25 – September 3
Exhibition Hours: Wednesday – Saturday 12 pm – 8 pm, Sundays 12 pm – 6 pm
ARTISTS:
Karen Miranda Abel
Jennifer Marman and Daniel Borins
Kaitlyn Bourden
Hannah Busse
Paul Chartrand
Nicole Clouston
Naomi Dodds
Anna Eyler
Chris Foster
Young & Giroux
Sarah Kernohan
Alex McLeod
Daniel Rotsztain
Sheldon Storey
Jessica Thalmann
Tough Guy Mountain
VSVSVS
SPECIAL EVENTS:
Opening Night Party – Thursday August 24, 7 pm – 1 am
Opening night features a unique screening of a film program, 7a*md8 On-Screen, programmed by Golboo Amani and Fransisco-Fernando Granados, along with a musical performances by T.Dot BANGERZ Brass programmed by Art Spin's partners at CDR and a dance-floor friendly set by DJ General Eclectic.
Curator and Artist Talk – Saturday August 26, 3 pm – 4 pm
Join Art Spin curators Layne Hinton and Rui Pimenta to walk through the exhibition and discuss some of the curatorial themes. Artists joining us to talk about their work – to be announced.
Presenting Partners:
Waterfront Toronto
Myseum of Toronto
Funding Partners:
Toronto Arts Council
Ontario Arts Council
In-Kind Partnerships:
InterAccess
Ed Video Media Arts Centre
CDR
Bike Pirates
Hoop Driver
Trip To The Moon
Everything but the Band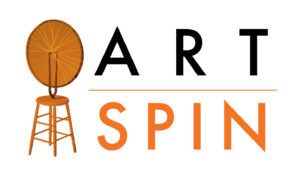 Commissioned Writings
Responses to 7a*md8 by two commissioned writers can be found on our blog:
Meditation on Mediation as Medium by Jenn Snider considers some of the implications of the move to lens-based performance practices.
Residencies of Resistance; Or, Performatively Flexing for the 'Gram by Delilah Rosier takes a closer look at the On Line social media residency projects.
Jenn Snider is an arts administrator, curator, writer, facilitator/organizer, and multi-disciplinary artist. She holds an MA in New Media Art Histories from OCAD University where her research explored administration in artist-run culture as a practice of institutional critique. She is the Executive Director of the Toronto Animated Image Society (TAIS), and sits on the Board of FADO Performance Art Centre, MANO/RAMO, and IMAA. Info on Jenn's arts-based practice is available at sympatheticnervous.com.
Delilah Rosier is an artist working and living in Tkaronto. Her practice consists of collages, drawings, photo manipulations and generating criticism and theory pertaining to queer theory, race politics and intersectional feminism within the landscape of popular culture. She is a graduate of OCAD University's criticism and curatorial practice program, is one half of Masking Collective, has been profiled in C Magazine, Formally Known As Magazine and was the 2016 Recipient of the Won Lee Fine Art Award for her written thesis project entitled "Sissy Those Subversions: Disidentifications and Institutionalized Performativity." She is currently pursuing her MA at York University in theatre and performance studies.
Also, in a special "Brut Neuve" issue of Blackflash (Vol. 35.2, May – September 2018), Victoria-based cultural geographer and guest editor Rhiannon Herbert assembles a number of articles that "look forward (and below, and sideways) to where [time and lens-based] creative content […] is going" (6). Among the features is a "Between Two Curators" dialogue between Golboo Amani and Francisco-Fernando Granados entitled "On-Line On-Screen Live Stream: Curating Performance in Cyberspace," where the two reflect on their experiences as the curators of 7a*md8. The article offers a "text-based conversation about different contextual aspects of the [7a*md8] curatorial platform ranging from the intuitions that initiated the project and themes that emerged in the works throughout the different programs, to the broader political and ethical implications of online curation" (35). Here's a few excerpts to whet your interest:
Though many of the artists were already professional social media producers, they expressed anxieties around developing social media content as commissioned art works. These reservations reflect the barriers often experienced by marginalized voices when attempting to establish cultural legitimacy. Virtual space becomes the site of visibility for the many practices left out of the institutional framework. —GA (38).
In terms of identity, I think it's also important to think about how the broader politics of these platforms place marginalized identities into a double bind. What kind of agency do artists have as image-makers in relationship to the broader currents of power that shape the flow of information within the platform? […] Are there limits or caveats to the practices of self-fashioning that have been enabled? Is there room for moments of abstraction or refusal within bodily action?—FF (39).