2000 3rd 7a*11d Festival
7a*11d's 3rd International Festival of Performance Art takes place in Toronto from October 25 to November 5, 2000. This year we feature artists from Australia, Germany, Sweden, Ukraine, US and UK as well as local and national heroes.
Organized by an unincorporated non-profit group of artists, the festival offers a series of autonomously curated events. A showcase for new and progressive performative works that fall outside the traditional boundaries of established genres, the festival invites emerging and established artists of the highest quality from around the world to present their work. This year's venues include:
Flicker, Skip, Moan…: performances that exemplify the characteristics of light, movement, sound, water, film, video and sugar.
Prognosis: content driven work that explores notions of cultural hybridity.
StrangeWays: works that explore the fantastic and the imaginary; myth and magick, nonsense, the grotesque, the absurd and the surreal.
=Videodrome= Body + Blood/Picture + Sound: event as experience over spectacle.
Master Class Five: a tag team style action art relay for five artists and twenty five objects
Special performances: works by Jill Orr (Australia), co-sponsored by Le Lieu's Rencontre internationale d'art performance de Québec, and S. Higgins (Toronto)
Public Spaces/Private Places: co-presentations of four new projects curated by Fado Performance Inc.
Experience as Spectacle as: our closing panel and discussion.
7a*11d/ YYZ festival opening: Wednesday October 25 at 8 pm, at YYZ, 401 Richmond St W
Join us for The 7a*11d Festival Kick Off — cocktails, book launch for Live at the End of the Century, and the opening of the YYZ gallery show, with a performance by otiose, Gibraltar Point artists in residence.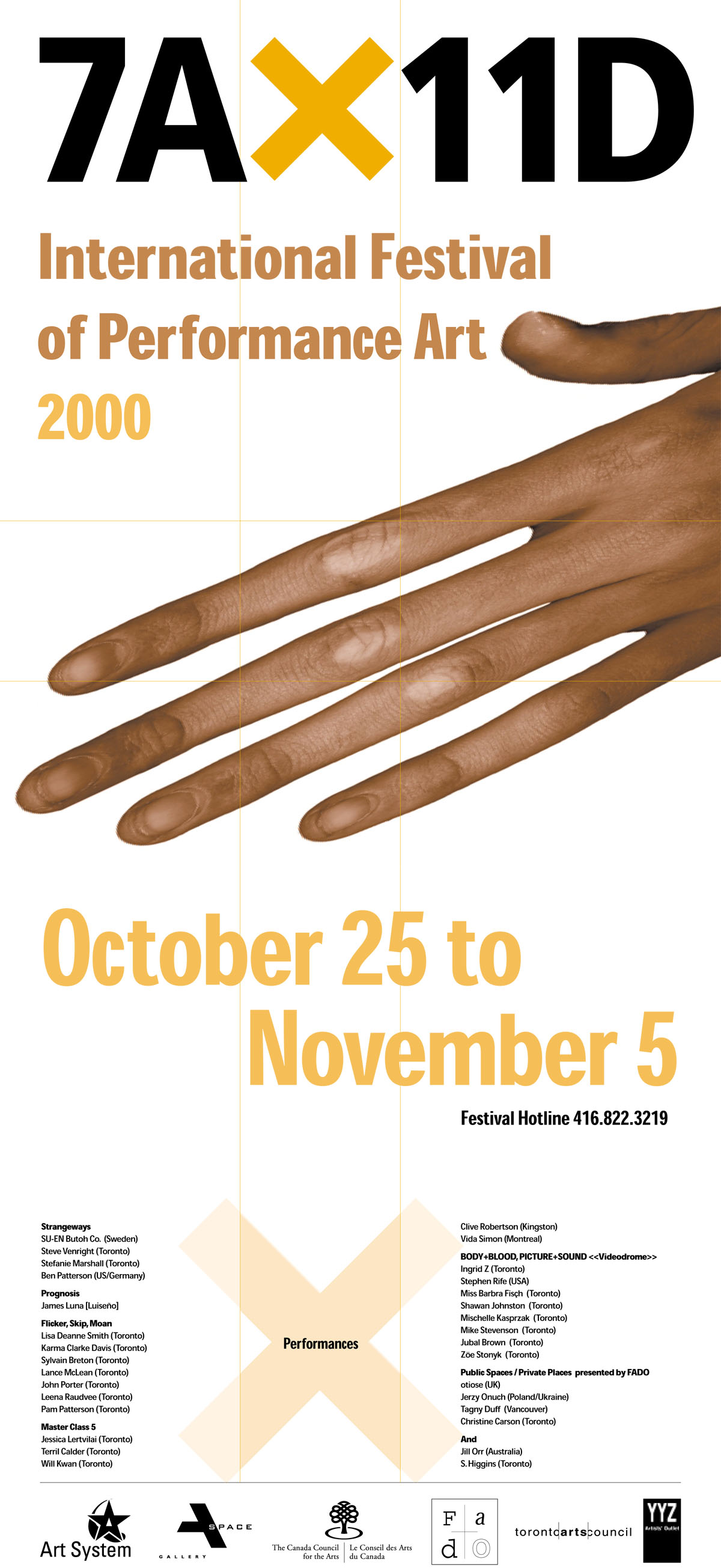 ×
Schedule
Flicker, Skip, Moan ...
Flicker, Skip, Moan …
Curated by Churla BURLA and David O DAVID
Light, movement and sound are the focus of this series of installation-based performance works, with an emphasis on how these elements can be used in counterpoint or overlap to push the limits of their expressiveness outside traditional theatrical conventions.
ARTIFACTS (Leena RAUDVEE & Pam PATTERSON)
Passing
Thursday October 26 to Friday October 27 1 pm – 3 pm
401 Richmond St W courtyard stairwell
John PORTER
Remember Rings
Saturday October 28 8 pm
Art System, 327 Spadina Ave, 2nd floor
Sylvain BRETON & Lance MCLEAN
Specimen
Friday November 3 9 pm
Art System, 327 Spadina Ave, 2nd floor
Karma CLARKE-DAVIS
Trash
Friday November 3 9 pm
Art System, 327 Spadina Ave, 2nd floor
Lisa Deanne SMITH & 1000km design büro
Sweet
Friday November 3 9 pm
Art System, 327 Spadina Ave, 2nd floor
For full descriptions, see the artists' pages.
Prognosis
Prognosis
Curated by Johanna HOUSEHOLDER and Louise LILIEFELDT
Prognosis directs focus toward work that deals with contemporary social, political and ethical issues with a view to the future. We are particularly interested in exploring notions of the "cultural hybrid." Living and working in a culturally rich community, we are aware of the challenging and sometimes loaded dialogue in art and criticism on issues such as neocolonialism, cultural appropriation, equality of representation, and unstable, pluralistic notions of identity. This confusing, elliptical terrain has yielded some of the most courageous and inspiring performances of recent memory. We believe that the ground continues to be fertile, as we face the need to further challenge internalized and external 'isms' and develop better understandings of who we are in relation to the people and the world around us. Cultures do not exist in isolation; historical, social, economic and political pressures work to move or blur real and imagined borderlines.
James LUNA
American Indian Study's
Friday October 27 8 pm
Workman Theatre, 1001 Queen St W
Artist Talk
Saturday October 28 2 pm
Innis College Town Hall, 2 Sussex Ave
Co-sponsored by A Space and the Centre for Independent Video and Media Education
For full description, see artist's page.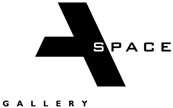 StrangeWays — Currents of The Fantastic in Contemporary Performance
StrangeWays — Currents of The Fantastic in Contemporary Performance
Curated by S. HIGGINS and W. A. DAVISON of the International Bureau of Recordist Investigation
StrangeWays is a project of the International Bureau of Recordist Investigation and forms part of our ongoing research into the surreal, absurd, fantastic, and similar currents of contemporary art and culture. This live event will present the work of four contemporary performance artists, two from Canada and two from Europe, whose work demonstrates a fundamental connection with "the fantastic", the realm of the illusory and the imaginary. This work can take a great many forms — myth and magick, nonsense, the grotesque, the absurd, the surreal, etc. — and each of the featured artists illustrates the wide diversity of concepts and strategies concerning "the fantastic" and its expression through the medium of performance.
SU-EN Butoh Company, w/sound by SIX HEADS
Headless
Thursday October 26 8:30 pm
Art System, 327 Spadina Ave, 2nd floor
Steve VENRIGHT
T. V. I. Reality Check
Monday October 30 all day
various locations throughout the Greater Toronto Area
Ben PATTERSON
An Evening with Ben Patterson
Wednesday November 1 8 pm
Art System, 327 Spadina Ave, 2nd floor
Stefanie MARSHALL
untitled
Saturday November 4 12 pm – 5 pm
Zsa Zsa Gallery, 927 Queen St W
For full description, see artists' pages.
Ben PATTERSON's participation co-sponsred by Le Lieu's Rencontre internationale d'art performance de Québec

=Videodrome= Body + Blood/Picture + Sound
=Videodrome= Body + Blood/Picture + Sound
Saturday November 4 10 pm
Art System, 327 Spadina Ave, 2nd floor
Curated by Jubal BROWN and Michelle KASPRZAK
Featuring _badpacket_ (Mike STVENTON & Michelle KASPRZAK), Jubal BROWN, Shawn JOHNSTON, MISS BARBRAFISCH, Stephen RIFE, Zoë STONYK, and Ingrid Z
= Videodrome = Body + Blood / Picture + Sound is the latest installment of Jubal Brown's ongoing campaign to bring together performance art and underground dance/rave culture. Promising "experience as spectacle," Brown's interest is to combine the best of both worlds, providing the sensual, experiential environment and engaging atmosphere of a late-night dance party, but adding the content and unpredictability of performance art. Videodrome's thesis is to contrast live and mediated expression, presenting works that can be experienced 'in the flesh' in one room, or viewed as projected spectacle in another. For this event, a series of DJs play trance and electronic dance mixes in a party environment of multiple video projections, with live performances presented on the hour in a second room and projected onto the walls of the dance area. The performances range from gory tableaux of bodies in distress to the destruction of furniture and a late-night fire demonstration.
Master Class 5
Master Class 5
Saturday November 4 5 pm – 9 pm
Latvian Hall, 491 College St W
Curated by Shannon COCHRANE and Tanya MARS
Featuring Terril CALDER, Will KWAN, Jessica LERTVILAI, Clive ROBERTSON, and Vida SIMON
Master Class 5 features five performance artists participating in a unique form of collaboration. Master Class 5 will investigate the role of audience/participants in the live medium of performance/action, the performance cliche, and the living visual picture.
Each artist is asked to choose and describe five objects/tools or concrete/tactile elements that are essential to the visual picture/conceptual idea of a performance. Personal or hand-made objects will be the responsibility of the artist to bring to the Master Class. More universal objects, and ten additional objects, will be assembled by the facilitators for a total of 35 objects in the Master Class 5 kit. Artists will be allowed to construct performances using any or all of the objects amassed in the Master Class 5 kit. This could be a planned piece or a random act. Regardless, the performance that is built on the day will be affected by the action of the others and perhaps the audience. What exactly will happen when 5 performers create 5 performances in the same space at the same time with the same objects without agreeing on a "theme"?
For full description, see artists' pages.
Co-presentation: Fado Performance Inc.'s Public Spaces/Private Places
Public Spaces/Private Places
Curated by Paul COUILLARD for Fado Performance Inc.
Spanning two years and featuring approximately 25 artists from Canada, the US, Europe and Asia, this series provides a broad look at issues of place and relationship. Public Spaces/Private Places explores the elements that turn neutral 'space' into meaningful 'place'. These works examine the degrees of intimacy, connection and interaction that mark the dividing line between public and private. Public Spaces/Private Places is particularly concerned with performances created for intimate audiences. Some projects feature site-specific or installational environments that invite participants into a sensory or experiential journey. Others are process-oriented, involving public intervention, intimate gestures, or actions that may, by their nature, be nearly invisible. Many are designed primarily for an unsuspecting audience. Above all, what distinguishes these works is the artists' restless, inventive impulse to find ways to allow our separate, unseen and sometimes contradictory imaginations to intermingle.
Jerzy ONUCH
Between Us
Thursday October 26 7:30 pm
Art System, 327 Spadina Ave 2nd floor
Christine CARSON
Numb/Hum: A Subterranean Metropolitan Opera
Wednesday November 1 to Friday November 3 8:15 am – 8:45 am
Osgoode subway platform (Queen St W & University Ave)
Tagny DUFF
<<Public Web>>
Wednesday November 1 to Friday November 3 2 pm – 5 pm (40-minute interactive tours on the hour)
beginning at Art System, 327 Spadina Ave 2nd floor
Maximum 10 people per tour
otiose (Ailith ROBERTS & John DUMMETT)
spoken house
Wednesday November 1 to Thursday November 2 2 pm – 6 pm
(audio and text archive continues through Saturday November 4)
Art System, 327 Spadina Ave 2nd floor
For full description, see artists' pages.

Panel/discussion: Experience as Spectacle as
Experience as Spectacle as
Sunday November 5 3 pm
YYZ Artists' Outlet, 401 Richmond St W
With panelists Tagny DUFF (Vancouver BC) with John DUMMET (UK), Kym PRUESSE (Toronto), and Clive ROBERTSON (Kingston ON); moderated by Johanna HOUSEHOLDER.
It may be understood that spectacle itself is a charged word, and probably connects too directly to Debord alone, so if you want to nominate another term, please do. For our purposes spectacle is the visual and visceral apprehension of the performance event by audience. How much it implies passivity is an open question and in performance art (as in Debord), the term audience itself is somewhat fluid.
There are a  number of works in the festival and in the performance catalogue generally which employ the audience as participants or agents in the realization of the work…. As well there is the notion of Experience as Spectacle raised by the description of =Videodrome=. This could describe the experience of the "audience/participants" (Valie Export's term) in the high pitched environment of performance;  or it could refer to the experience of the artist.
Here a discussion of 'ordeal' performances; or the gradual unfolding of improvisatory performances — as well as the open ended processes of audience interaction — could ensue.
REPORT:
This panel was designed to explore some of the issues surrounding the placement of "audience/participants" (a term coined by Valie Export) within performance art, as exemplified or at least suggested by the works in the festival. Does the responsibility of the work lie with the experience of the artist, or that of the audience member? What does it mean to present process as performance; i.e. as a form of spectacle, something to be apprehended visually and viscerally by an audience? Is there a common thread to be found among the several competing strategies employed by works in the festival — performance art as a form of personal research, performance art as a presentation of an ordeal to be witnessed by an audience, performance art as a form of social provocation, performance art as thoughtful entertainment, etc.?
Tagny Duff invited John Dummett to contribute to her presentation. Part of their strategy involved questioning or interrogating the form of panel discussions, trying to break the authority structure inherent in the speaker/audience relationship. They presented their comments as a roving conversation — both physically and in terms of content. Performance as a negotiation of elements; fictional vs. embodied spaces; the role of permission (given or taken) in determining the outcome of a situation; and strategies that break the binary notion of performer/audience were key aspects of their interaction with the audience. Clive Robertson referred to the dehumanizing aspects of spectatorship, in which isolated gestures threaten communal activity. He held this notion up against efforts by performance artists to create a communal situation using what is referred to as a 'technology of the self'. He also spoke about the importance of being an audience member in the transference of ideas, knowledge and culture. T.V.I. intervened with a demonstration of their reality-checking techniques and devices, including the 'phenomenatron' and the 'ontologator'. Kym Pruesse put forth the notion of 'psychological envelopes' as a way of looking at the thresholds at which different types of engagement among audience and performer are facilitated or made untenable. The discussion went in multiple directions, including a questioning of the goal or impulse of performance — as a data collection process, as a facilitated transformational experience, or as a consumable spectacle. A number of intriguing and thoughtful points of view were expressed, suggesting numerous possibilities for future discussion.