1998 2nd 7a*11d Festival
Last year's 7a*11d International Festival of Performance Art was a first for contemporary art and the performance art scene in Toronto.  The festival brought together over 60 artists from Toronto, across Canada and the world, showcasing new and progressive performative works that were designed to fill the voids outside traditional boundaries of established genres (theatre, dance, music,etc.).  The festival took place over five days in five distinct venues, with five distinct curatorial premises that physically and conceptually took the Queen West neighbourhood by storm.
This year, the 7a*11d International Festival of Performance Art returns, split into two sections, the first from August 20-23, 1998, the second taking place from October 26-November 7, 1998. Once again we showcase the best local and international performance artists in various individual venues.
Festival Backgrounder
WHAT is performance art?
Performance art explores time, space, our bodies and the relationship between artist and audience. Visual art, music, dance and theatre may be a part of what is involved in creating a performance art piece, but the process and concerns of performance artists usually range beyond the established definitions of these more familiar forms. Performance artists are sometimes characterized as the rogues, misfits and outcasts of the art world; sometimes, we are seen as art's 'research and development' branch. Certainly the work of performance artists has had a profound impact on the more 'traditional' art forms, opening both audiences and artists to new ways of experiencing the world. We do what we do, however, not for the sake of being 'different' or 'shocking', but because we need new forms to express and explore our artistic vision.
WHERE are we going?
The 7a*11d International Festival of Performance Art is structured as a series of autonomously curated events that allow for many different voices. Individually, the works are guaranteed to be insightful, engaging, passionate, provocative and often surprising. Taken together, they present a rich, sometimes messy and often contradictory view of our world. With highly visible, low- to no-cost events and an amiable social atmosphere, the festival is as complete and satisfying an experience as anyone could want.
WHEN is it happening?
This year's festival will be presented in two parts, the first running  August 20 to 23, and the second from October 25 to November 7, 1998. Stay tuned as well for other featured activities and events throughout the year.
WHY here, why now?
Toronto has always had performance artists, and, at various times, what could be called a performance art 'scene'. A look at some of Toronto's most successful and respected art projects and groups, from General Idea to A Space, from the Clichettes to the Hummer Sisters, reveals how much of the energy of Toronto's visual arts community has been generated over the years by performance artists. The formation of 7a*11d heralds a new wave of interest in performance art. We see many important reasons for the re-emergence of performance art. Some performance artists are on a search for new forms to better communicate who we are and what we are becoming. Others root their work in an insistence on the value of real contact in an increasingly virtual world. Some find value in its purity, an opportunity to cut away interference between their voice and its audience. Whatever the reasons, it is clear that something important is happening, and performance art is a part of it.
HOW do we pull it off?
7a*11d offers an impressive core of proven talent and resources. Our strengths include expertise developed through creating and running our own organizations; the ingenuity we have shown in working with limited support; the dedication of massive amounts of volunteer time, energy and resources; the patience and maturity of our commitment to work together to accomplish things that none of us could manage individually — and the determination of our artistic vision. The coalition also fosters a mentoring relationship between established producers and enthusiastic novices. Generous grassroots support from local businesses, arts councils, and our tireless volunteers has been key to our amazing development. We have something vibrant and dynamic to offer, and we invite new audiences and sponsors to share it with us.
Schedule
Dinner @ 5
Dinner @ 5 (We are what we eat)
Sunday August 23 5 pm
87 Wade Ave, 3rd floor
Curated by Terril-Lee W. CALDER
Koren BELLMAN (Toronto)
The Disciplinary Lounge
May CHAN (Kingston ON)
Hong Kong and Me
Paul COUILLARD (Toronto)
Bachelor Party
Ken GREGORY (Winnipeg MB)
Twelve Stations of the Cross
Anne-Marie HOOD w/ Michelle BAKIC (Toronto)
…Of Necessity
plus tables by visual artists Peter FLEMMING, Dave FUJII w/ Sam BIETENHOLZ, Toshimi MITSUI, and Donnely SMALLWOOD (all Toronto).
Consuming is an integral part of  sustaining life. What and how we eat reflects who we are. The body is an engine that is fueled by nutrients, the  essential sustenance of the living organism. It is a primary need but it has come to represent much more than preservation. Eating intersects with religious beliefs, cultural identity, social economic conditions, and reflects societal ideals relating to body image. Social classes are distinguished by the entrées eaten or denied. Marie Antoinette said "Let them eat cake" to the masses who were not so privileged. Some lands have stopped yielding the life giving necessity, and economic conditions keep many from acquiring proper nutrients. Locations define the foods of our cultures; the origins of ethnic foods are rooted in what was available in the region to eat. One of the oldest religious adaptations of eating is for ritualistic purposes. Rituals include offering food to the Gods, food blessed by God, and consuming food to represent the body of God.  North American diets are influenced by the psychological impact of advertising, while fashion reinforces a malnourished body image. Eating disorders are becoming common.
Dinner @ 5  invites five artists to dine with/for the audience at 5 pm, an unorthodox and even inconvenient hour for the audience, as it is a traditional feeding time. For the adventurous consumer, however, the artists stir up some eats of intellectual satisfaction,. I do hope the audience can digest the heaping portions of tantalizing interpretations of Dinner @ 5.
Field Trips
Field Trips
Curated by Shannon COCHRANE and Paul COUILLARD
Anna BANANA (Sechelt BC)
Bananas in Distress: Research Project No. 2
Thursday August 20 4 pm
corner of King St W & Bay St
Friday August 21 4 pm
corner of Queen St W & Spadina Ave
Saturday August 22 4 pm
corner of Yonge St & Bloor St
Marlene MADISON PLIMLEY (Vancouver BC)
Chiclette, the Posh Urban Piglet
Saturday August 22 12 pm
beginning from the corner of Queen St W & John St (outside CityTV Speaker's Corner)
Mark RODGERS (Coventry UK)
untitled
Friday October 30 to Sunday November 1
Various times and locations (check hotline for details)
Ed JOHNSON (Toronto)
Bail
Saturday October 31 1 pm
Lake Ontario breakwater east of the Sunnyside pavilion
men of the world (Mark Alice DURANT [Syracuse USA] and Mathew WILSON [Chicago USA])
untitled
Saturday October 31 2 pm
fountain at University Ave & Queen St W
men of the world
untitled group action
Sunday November 1 12 pm
Union Station
Andrew J. PATERSON (Toronto)
Symptoms of Whatever
Thursday November 5 4 pm
Friday November 6 6 pm
Saturday November 7 3 pm
Zsa Zsa, 962 Queen St W (storefront window)
Field Trips offers works that poetically slip themselves into the cityscape to blur the conventional distinction between beholder and beheld, creator and created.  The clever beauty of these works is their ability to blend into the eye and mind of a public audience without forcing the viewers into the role of unwilling participants or antagonists of the artist who wishes to bring performance art to the street.  For the audience to experience these works, all they need is the willingness to play along and become one of the creators. Field Trips offers a series of flexibly scheduled public interventions with a double context; those 'in the know', who follow the festival schedule, will be able to find and view the effects of these works; while a larger audience, the unsuspecting public, will come upon them by chance.
Hybrids
Hybrids
Curated by Johanna HOUSEHOLDER and Louise LILIEFELDT
Terril-Lee W. CALDER (Toronto)
The Suckling
Thursday August 20 8 pm
87 Wade Ave, 3rd floor
William POPE.L (Maine, USA)
Eracism
Friday August 21 8 pm
The Music Gallery, 179 Richmond St W
Cathy SISLER (ON)
untitled
Thursday October 29 8 pm
87 Wade Ave, 3rd floor
Los MIXIQUES (Domingo NUÑO [San Francisco USA] & Julio MORALES [New York City, USA] with BLAISE [USA])
Fotos 5.0 The Planet of Los Burros
Sunday November 1 8 pm
87 Wade Ave, 3rd floor
This program focuses on content-driven work that deals with contemporary social, political and ethical issues. We are well aware of the challenging and often loaded dialogue in art and criticism on issues such as neocolonialism, cultural appropriation, equality of representation, and unstable, pluralistic notions of identity. This is a confusing, dangerous terrain that has revealed some of our (collective) best and worst impulses. Even as we all tire of various aspects of political correctness, we still face the need to further challenge internalized and external 'isms' and develop better understandings of who we are in relation to ourselves and the people and world around us. Cultures do not exist in isolation; historical, social and political pressures work from within and without to move or blur real or imagined borderlines.
International Performance Video Art
Two Evenings of International Performance Video Art (3 programs)
Presented by Pleasure Dome
Performance to Camera: Recent British Video, Part II
Thursday November 5 8 pm
CineCycle, 129 Spadina Ave

Curated by Catherine ELWES
The direct address to the viewer and the intimate space of the video image has long inspired artists to perform to camera. This British selection ranges from the minimal performance of SMITH and STEWART's breathless evocation of a couple's interdependence to the outrageous exhibitionism of Michael CURRAN's erotic prancing in the face of female indifference. The deadpan Pythonesque delight in the absurd is also in evidence in John SMITH's work while a more lyrical note is struck by the curious childhood rituals that Angela DERBY weaves around bodily hair. The tradition of free speech, exemplified by the soap box orators at London's Speakers Corner, underlies the uncompromising realism of Anne WHITEHURST's address from her wheelchair. Keith PIPER similarly leaves us in no doubt as to his subjectivity as a young black male coming to terms with the history of slavery. This collection of works reinforces video as a medium of the personal statement in the face of the reductive generalizations of broadcast television.
American Psycho (drama): Sigmund Freud vs. Henry Ford
Friday November 6 7 pm
CineCycle, 129 Spadina Ave
Curated by Nelson HENRICKS
This humourous selection of performance-oriented videos maps a trajectory between consumer society and the psychoanalytic confessional. HALFLIFERS perform two 'rescue' missions using coloured snack food and everyday objects as a means towards transcendence. In The Horror, Emily BREER and Joe GIBBONS recuperate Coppola's Apocalypse as a day at the beach. GIBBONS' solo work, Multiple Barbie, features the artist as a smooth talking psychoanalyst, gently attempting to fuse the mute doll's shattered plastic psyche. Three works by Anne MCGUIRE all employ genre conventions derived from popular culture (the variety, show, the talk show, and the rock video); McGuire's presence as a performer amplifies the sense of strangeness that lies at the heart of the familiar, creating a vertigo between form and content. ANIMAL CHARM's interventions in the program are homemade commercials and infomercials, sampled from a reservoir of neglected or useless images.
Smells Like Bonbons: Canadian Performance Video
Friday November 6 9 pm
CineCycle, 129 Spadina Ave
Curated by Steve REINKE
This program features some of the best of recent videos which challenge and extend the idea of 'performance' and 'performance video' into exciting new territories. Most of these tapes have never been seen by Toronto audiences, including the premiere of new works by Monique MOUMBLOW and Emily VEY DUKE. Also featured is Micah LEXIER's One Minute of My Time, originally produced for BRAVO, and the Toronto premiere of Barb WEBB's Smells Like TV. Recent favourites from Yudi SEWRAJ, Jinhan KO, Sylvie LALIBERTÉ, John MARRIOTT and others round out the program.

Interventionism panel discussion
Interventionism
Sunday August 23 2 pm
A Space Gallery, 401 Richmond St W
Coordinated by Johanna HOUSEHOLDER
Anna BANANA (Sechelt, BC), Adrian BLACKWELL and Kika THORNE (Toronto), William POPE.L (Maine USA), Deanne TAYLOR (Toronto); moderated by Johanna HOUSEHOLDER (Toronto)
Interventionism examines the ways in which performance has entered uninvited the realms of politics and the social. The panel brings together a number of artists who have produced work which has commandeered public space and discourse to a variety of ends.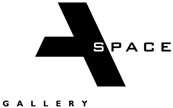 Performances for an Orange and Violet Room
Performances for an Orange and Violet Room
(in which both colours will be present)
Curated by Churla BURLA
Kate STORY (Peterborough ON)
Wine Princess
Dave DYMENT & James JULIEN (Toronto)
Don't Count My Scars Like Tree Rings
FLY (New York City USA)
untitled
Friday October 30 8 pm
87 Wade Ave, 3rd floor
Julie Andrée T (Montreal QC)
Don't Go Out That Would Be Sad
Daniel BARROW (Winnipeg MB)
The Wallflower
Allison CUMMINGS (Toronto)
Orange and Violet Fragments
Saturday October 31 8 pm
87 Wade Ave, 3rd floor

The venue Performances for an Orange and Violet Room (in which both colours will be present) came about in part because of my interest in how colour affects people within their environment both physically and spiritually. The choice of the colours was made in terms of their contradictory dynamics — one being warm, the other cool — as well as their relationships historically to opposing viewpoints of the world. For example, the colour orange represents the chakra for sexual energy, while violet represents the spiritual. How the performer negotiates, interprets and manipulates the dynamic, producing a unique message, is of great interest in terms of how the abstract (colour) can influence our behaviour, perceptions and emotions.
PO-PO Wasteland
PO-PO Wasteland

Curated by Jubal BROWN
PO-PO Into the Wasteland
Saturday August 22 10 pm
Front St wasteland (between Spadina Ave & Bathurst St)
Featuring: Monty CANTSIN (Toronto), PHŸCUS aka Brian DAMAGE (Ottawa ON), Ioana GEORGESCU w/ ZILLON (Montreal QC), S. HIGGINS (Toronto), Richard K (Toronto), KNURL aka Alan BLOOR (Toronto), Stephen RIFE (St. Paul USA/Toronto), SONGS OF THE NEW EROTICS aka W. A. DAVISON (Toronto), & tENTATIVELY a cONVENIENCE (Baltimore USA), plus DJs ASI/IAO & PSI2
PO-PO Samhain in Wasteland
Friday October 30 11 pm
abattoir building wasteland (corner of Niagara St & Wellington St W)
Myfanwy ASHMORE, Adrian BLACKWELL, Daniel BORINS, Jubal BROWN, Churla BURLA, Monty CANTSIN, Jada DADA, Sandra ERAZO, Magda GENEWSKA, Travis GLEDHILL, Jason HALLOWS, S. HIGGINS, JOSH THE DOG FACED BOY, Richard K, Margaret RADNICK, Stephen RIFE, SONGS OF THE NEW EROTICS, Zoë STONYK, Kika THORNE (all Toronto), plus DJs ASI, POLYPHONIC, Eric DOWNER and live audio by PRRR and MAZIKEEN
The main intent here is to create an audience participatory event, where the viewer is involved in the work and the space so much so that they are no loner passive but become active participants in the event. To expand the scope of what is thought of as 'performance art' by exposing it to, and to it, another audience, a younger, uninitiated audience, more of a 'general public'. In a temporary unification of disparate communities, the art community and the electronic dance or 'rave' world, both will benefit from some new blood, and cross fertilization of energies. To make art fun and exciting and to somehow bridge the gap between art and life and pop and high culture.
These events are similar in theme and practical application to a series of performance events held in Toronto over the winter of 1997-98, organized by Jubal Brown and Stephen Rife. Entitled the Wasteland Series (I, II & III), large, abandoned industrial spaces were used for site-specific performances and installations by roughly 10 artists each time.
Pousse-Café
Pousse-Cafe
Saturday, November 7 8 pm
DeLeon White Gallery, 455 King St W
Presented by Mercer Union
Curated by Paul COUILLARD and Louise LILIEFELDT
Pousse-Café. Translating literally from the French, you get 'push-coffee' — after dinner, post dessert, beyond the beyond. The term refers to a combination of liqueurs of different specific gravities, layered in a glass to produce a rainbow effect. Amazing to look at, but the real trip is drinking it…
This heady folie hints at what we have planned for you. Our recipe brings together eight of our favourite performance artists, each one worth savouring on their own, but for this one evening layered together into what is guaranteed to be a 'special occasion'.
The smell of chocolate, the weight of history, the sound of breaking glass, the space of distance, the colour of fire, the alchemy of whirling, the wisdom of aphorisms, the sly mystery of the familiar…
Pousse-Café reflects the kaleidoscopic richness of Toronto's performance art scene, and indeed the city itself. This multi-textured cabaret evening is the perfect sampler of the dynamic range of aesthetics, ethnicities, ages and outlooks shaping the current local resurgence of art's edgiest genre. While not all of the artists are currently living in Toronto, they are all regular contributors to Toronto culture.
Shannon COCHRANE (Toronto)
If Wishes Were Horses, Beggars Would Ride
If wishes were horses, beggars would ride — and so would Azed, Omar and me.
Anne-Marie HOOD (Toronto)
untitled
An alchemical experiment using sound and movement as substances.
Johanna HOUSEHOLDER (Toronto)
The Missing Scenes from Last Year at Marienbad
Continuing a series of performance investigations into the annexation of internecine communication by the emotional residue of cinematographic iconography — OR — "The Missing Scenes from Last Year at Marienbad".
Istvan KANTOR (Toronto)
That's How I Want to Be Remembered
Worthless monument of dull muddiness commemorating a disastrous moment of absolute grandeur. Site specific gallery crime.
Robert LEE (Toronto)
untitled
A repeat performance
Tanya MARS (Toronto)
Homage to Hannah Wilke and Virginia Woolf
Once again Mars tips her hat to feminist history to create an ironic commentary on the sorry state of "woman's place" as we approach the millennium.
Judith NORRIS (Vancouver BC)
Holy Dog
On the Similkameen Res. In Toronto. A horse with lightning bots on his legs galloping through time and space. Transportation from west to east and back again, via the north and south. Everything happens in a circle…
Stephen RIFE (St Paul MN)
untitled
Baseball is played with basically three pieces of equipment:  the base, the ball, and the bat.  The bat in this version of the game is a propane torch. The ball is a bag of flour.  The base is somewhat more difficult to define, except to say  that it is wherever the spectator has positioned his or herself, psychically and physically.


Some Assembly Required critical/curatorial talks
Some Assembly Required
Cosponsored by Le Lieu centre en art actuel and the Goethe-Institut Toronto
Coordinated by Paul COUILLARD
Monday October 26 7 pm
Simon HERBERT (Newcastle, UK)
Martha WILSON (New York City, USA)
Goethe-Institut, 163 King St
Tuesday October 27 7 pm
Elisabeth JAPPE (Cologne, Germany)
Slavka SVERAKOVA (Belfast, Northern Ireland)
Goethe-Institut, 163 King St
This program has been organized in conjunction with Le Lieu's conference, Rencontre internationale et colloque interactif sur l'art actuel (1958-1998), taking place Tuesday October 20 to Sunday October 25 in Quebec City. In order to broaden the discussion about performance chronologies that will be taking place at this symposium, we are inviting several of the participants to come to Toronto to present talks on their respective areas of experience and expertise. Working mainly as curators, producers and writers in the fields of performance and contemporary art, these speakers will provides insights into what trends are developing in terms of performance art in other parts of the world.
Spectacle of Noise
Spectacle of Noise
Presented by Vtape
Artist Reception Wednesday November 4 6 pm
Tapes available for viewing during office hours throughout the festival
Vtape, 401 Richmond St W, 4th floor
This program of four videotapes by Istvan KANTOR, aka Monty CANTSIN, aka PUPPET GOVERNMENT, aka AMEN!, features 'the dated radicalism of Neoist scum' (quote appropriated from Philip Monk). As the internationally acclaimed 'bad boy' of Canadian performance, Kantor's extensive resume includes frequent performances throughout North America and Europe. His work focuses on the excesses of capitalism and the challenges of 20th Century culture, and also includes extensive and important video documentation of performance work by a wide variety of artists.
Videos in program: Black Flag, Barricades, Red Flag and Jericho.