Festival artist Elizabeth Chitty has published the route for the Daylighting Walks she will be conducting on Thursday October 13 and Saturday October 15 at 6:30 pm, and also on Sunday October 16 at 4 pm, leaving from the main venue at Geary Lane (360 Geary Ave).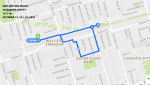 For those interested in knowing more about the background regarding this route, Elizabeth writes,
For research for this work, I am very much indebted to the community organization Lost Rivers Walks (see in particular their Lost Rivers Central Toronto Key Map) and citizen geographer and photographer Michael Cook (see his page on the Garrison Creek West Branch Storm Trunk Relief Sewer). Daylighting Walks will cover a very short above ground portion of the sewer path.