LILIEFELDT, Louise
2016 11th 7a*11d Festival
×
PHOTO Louise Liliefeldt
What Does It Mean To Forget?
Wednesday October 19 6 pm
Signy Eaton Gallery, Art Gallery of Ontario
What Does It Mean To Forget? is a durational performance that marks Liliefeldt's return to the form. The work extends her previous explorations of action-based meditation on a topic and site, and features a series of tableaux examining notions of memory and trust.
In this new work I attempt to bring together two big subjects that have been on my mind for some time, murder and Dementia. It seems victims of murderous deaths have had their life cut short while someone living with Dementia has the pain of the loss of memory stretched out. One we are exposed to constantly, the other we know little about. How do images of murderous death affect what we remember, how much we forget, and what the things we forget about are? What
is it like inside the mind of a person suffering from Dementia? What is remembered and why? There are too many questions to answer, so I am simply creating images and actions that are representations of my many thoughts, experiences and confusions. Performed with the body of Diane McGrath.
Louise Liliefeldt is a Toronto-based performance artist and painter. Her work is concerned with the politics of identity as they intersect with gender, race and class.
Co-presented with the Art Gallery of Ontario.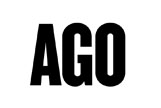 Canada
2004 LIFE=ART=LIFE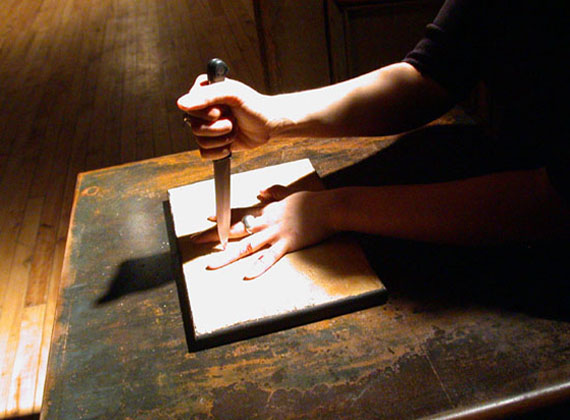 ×
Louise Liliefeldt, untitled LIFE=ART=LIFE 2004 PHOTO Miklos Legrady
Untitled
Friday February 20 7:30 pm
Karen Schreiber Gallery
Presented by Blank Slate with the support of the 7a*11d International Festival of Performance Art
LIFE=ART=LIFE is designed to be an exploratory forum evaluating the past and present trends of performance art in the context of everyday life.
Toronto based painter, teacher and curator, Louise Liliefeldt, is today highly regarded internationally as a performance artist. Her work is often presented in a public setting where she installs herself in site specific locations, creating environments that incorporate self made objects or video projections. Liliefeldt's concerns focus on political issues of gender and race, cultural conventions of spectatorship and the links between expanded emotional and psychological states with the physical experience. She is a member of the Shakewell Performance art Collective, Class Act, and is co-founder of 7a*11d International Festival of Performance Art in Toronto.
Canada
1997 1st 7a*11d Festival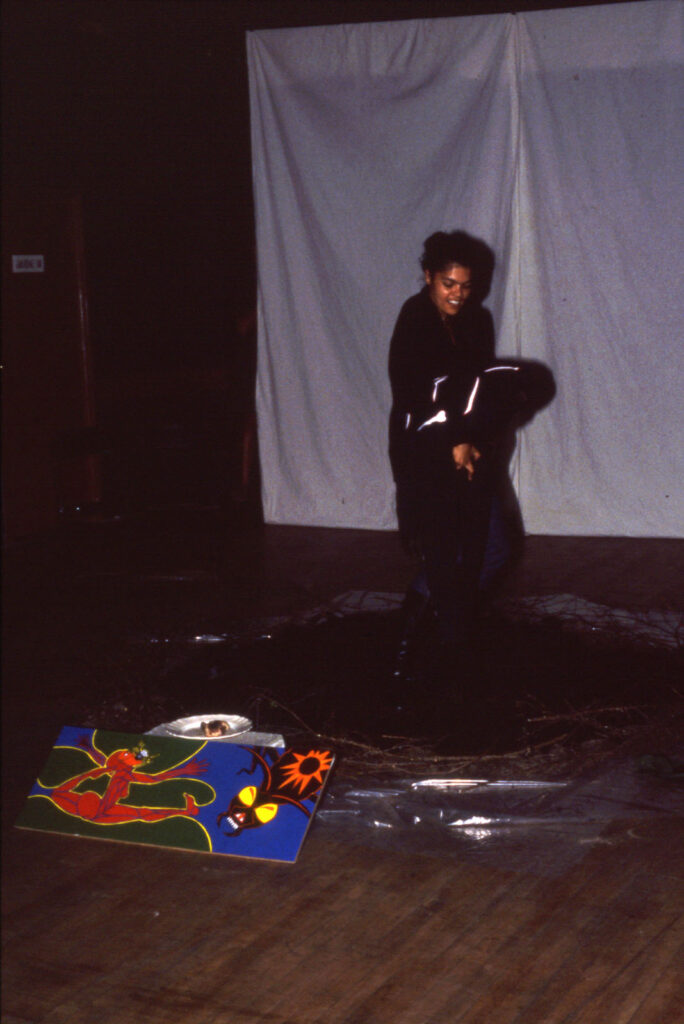 ×
Louise Liliefeldt, untitled 7a*11d 1997 PHOTO Cheryl Rondeau
untitled
Saturday August 9 2 pm – 4 pm
Symptom Hall | 160 Claremont St (just south of Dundas St W, west of Bathurst St)
Louise Liliefeldt is a multidisciplinary performance artist. She graduated from the new media department  at OCA in 1992. A member of the Shake Well collective and frequent volunteer at Symptom Hall, Louise has also worked at Vtape for the past four years. As a mixed race woman and a native of south Africa, her work deals predominantly with identity. Since late 1995 Louise has been creating multicoloured and multidimensional environments in a number of storefront windows in downtown Toronto, most recently in Pages' storefront window for Rencontre Performance, organized by FADO and curated by Sandy McFadden.
Canada