DEFREITAS, Erika
2017 7a*md8 - On Screen

×
Erika DeFreitas, Her body is full of light (often, very often, and in floods) 2016 video stills
Her body is full of light (often, very often, and in floods) (2016, 4:22)
Thursday August 24, 7:30 pm
291 Lake Shore Boulevard East (just west of Parliament St.)
Presented in partnership with Art Spin and Waterfront Toronto in conjunction with Desire Lines
Saturday June 10, 7:30 pm
Guild Park and Gardens
Presented in partnership with (Un)settled
I have been thinking about religion and the body.
An image that has lived with me for some time now, has been of my mother and I laughing hysterically to the point of tears. I don't see it often. It's a fleeting image. When it appears, we aren't sharing the same space; it exists as a split screen in my mind. There is a softness to it – as if the light is shining through us. I can't determine why this resonates the way that it does, but to me this imagery invokes the tradition of lamentation in religious texts and the phenomena of the weeping statues of the Virgin Mary. In Her body is full of light (often, very often, and in floods), we perform this action in a dual-channel video.
Erika DeFreitas is a Toronto-based multidisciplinary conceptual artist. DeFreitas explores the influence of language, loss and culture on the formation of identity with textile-based works, and performative actions that are photographed; placing an emphasis on process, gesture and documentation. She is a recipient of the 2016 Finalist Artist Prize from the Toronto Friends of Visual Arts and the 2016 John Hartman Award. She is a graduate of the Masters of Visual Studies Program at the University of Toronto. Exhibition sites have included Project Row Houses in Houston, Aljira, a Center for Contemporary Art in Newark, New Jersey, the Art Museum at the University of Toronto, Art Souterrain festival in Montreal, the Art Gallery of Windsor, Platform Centre for Photographic & Digital Arts, Centre [3] for Print and Media Arts, Gallery 44, the Art Gallery of Mississauga, the Pollock Gallery at the Southern Methodist University in Dallas, and the Houston Museum of African American Culture.
Canada
http://www.erikadefreitas.com/
2004 5th 7a*11d Festival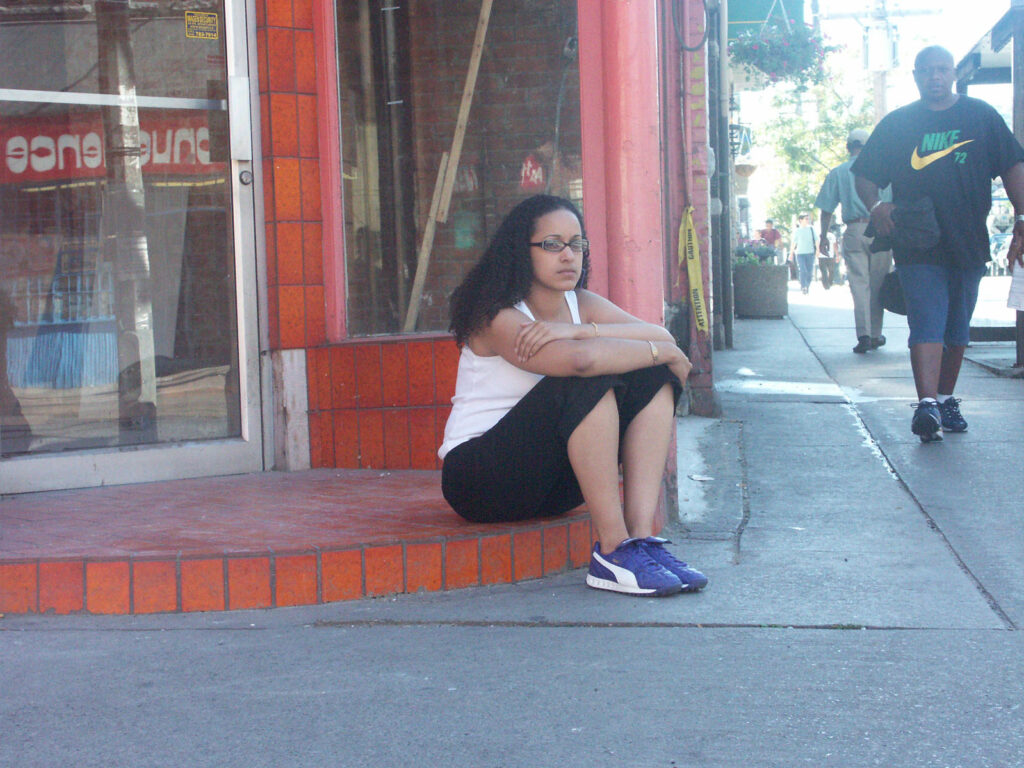 ×
Erika DeFreitas 2004 PHOTO courtesy of the artist
Untitled (Selected Hearing)
Saturday October 23 4 pm – 8:30 pm
Sunday October 25 10 am – 2 pm
offsite one-on-one listening performance—reservation required
Presented by Fado Performance Inc. in the series FIVE HOLES: Listen!
Our society depends heavily on conscious auditory perception as being selective, and this perception has created a culture of selective hearing. Our ability to "block" things out allows us to choose when we want to listen, what we listen to, and what we hear. Components of our surrounding environment have perpetuated this practice of filtering sound and have dictated what is allowed to take root and what must be discarded. Such forms of selective hearing and escapism can alter our environment in a surreal way. This performance explores the sense of hearing and more specifically the act of listening as an intimate act of inclusion, trust, and the location and dislocation of self in public venues in Toronto.
Erika DeFreitas is an emerging conceptual performance and installation artist who has been producing and exhibiting artwork over the past two years. Her performances and installations have been exhibited in the Toronto galleries Implant, Ne Plus Ultra, ArtSystem and sisboombah. The many theories surrounding the influence of language on the formation of one's identity provide a foundation for her work. One of her intentions in creating artwork is to include the audience as active and at times, unknowing participants.

Canada